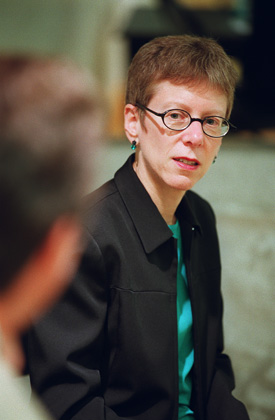 It seems strange that a person who makes her living asking probing, often intimate questions of complete strangers and having those conversations broadcast daily to a nationwide radio audience should confess to being shy, but that is exactly how Terry Gross, host of National Public Radio's "Fresh Air," describes herself.
"Yes, I am naturally shy, but the microphone gives you license. Put a microphone in my hand and I'll just keep asking questions until they walk out."
Gross was at Harvard Friday, Oct. 5, meeting with undergraduates in the afternoon and speaking to a general audience at Sanders Theatre that evening. Her visit was sponsored by the Office of the Arts.
Gross, a petite woman with short, sandy hair, began the evening program by talking about her career and playing clips of notable interviews she has done. Later, Kay Shelemay, the G. Gordon Watts Professor of Music, took the part of interviewer, putting Gross into the unfamiliar role of interviewee. The evening ended with a series of questions from the audience.
One of the behind-the-scenes secrets that Gross revealed about her unique show is that sometimes guests do walk out, leaving behind taped fragments that can be both intriguing and disturbing.
One notable walk-out was former White House intern Monica Lewinsky, whose tell-all book "Monica's Story," by Andrew Morton, reminded Gross of "a self-delusional romance novel." After Gross asked her to comment on the second of two passages from the book (which had been written with its subject's full cooperation), Lewinsky abruptly decided that the questions were "too intimate" and that she did not feel comfortable answering them.
Rock singer Lou Reed, a performer Gross admired and had always wanted to interview, hung up on her (most "Fresh Air" interviews are conducted by telephone) after a series of increasingly uncomfortable exchanges in which Reed responded to Gross' questions with venomous sarcasm.
But sometimes an interview that is heading south can unexpectedly change directions. One such unexpected success was Gross' interview with legendary stage actress and acting teacher Uta Hagen (she created the role of Martha in the original Broadway production of Edward Albee's "Who's Afraid of Virginia Woolf?").
When Gross began with a question about acting technique, Hagen scolded her for presuming that a nonspecialist could even understand her answer. Unperturbed, Gross begged to differ. "When I learn about an artist's technique, it helps me perceive things in the performance that I might have otherwise missed." Hagen was won over. "Yes, I quite agree with you," she said.
Gross began her career in 1973 at a public radio station in Buffalo, N.Y., hosting a feminist talk show. She aced the interview as a result of what she described as serendipity.
"They asked me to come up with questions about women and divorce. It just so happened I was going through a divorce! I had already done the research."
In a few years, she had established the basic format of "Fresh Air," currently airing every weekday and featuring in-depth interviews with cultural and entertainment figures as well as experts on news and current affairs. The show has since won numerous awards.
In order to prepare for the show, Gross said she reads constantly, often while watching television or exercising on the treadmill. "I tend to look at the world as if it were a giant menu for the show," she said.
The disastrous Lou Reed interview notwithstanding, Gross said that her favorite subjects are singers, whom she often asks to "redeem" a lesser-known or neglected song by performing it on air. She played an outstanding example of such a performance, the singer-songwriter Richard Thompson singing the Rogers and Hammerstein song "When You Walk Through a Storm." Gross said she thought the powerful performance seemed particularly appropriate in the wake of the events of Sept. 11.
Regarding her own musical tastes, Gross said she loves listening to female jazz singers. Her husband, jazz and pop writer Francis Davis, shares many of her musical enthusiasms, and the two have amassed an extensive music collection. "We live in a house with a couple of couches and many shelves," she said.
Although she has done some television, Gross said she much prefers radio. "It's nice to be invisible. It suits me."
She said that the few times she has appeared on TV she found herself thinking more about how she looked than about the interview. But while the interview is actually going on, she loses all awareness of herself physically.
"I'm like a big ear. My face tends to go slack. The TV people have to keep reminding me to smile."
Ending the program, Gross thanked her audience. "I know a lot of you have probably come to see what I look like. Well, I don't get to see you either. Most of the time, I'm sitting alone in a studio. It's a pleasure to see your faces."