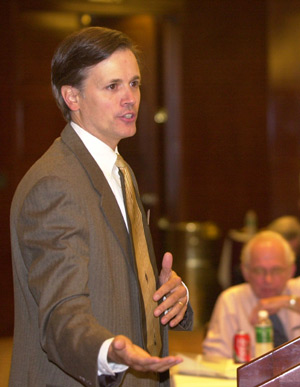 As 11th-graders across Massachusetts awaited the results of last spring's Massachusetts Comprehensive Assessment System (MCAS) tests, educators and administrators gathered at the Kennedy School of Government for lively and sometimes heated discussions of the MCAS, testing, and school reform.
"Testing Testing: School Accountability in Massachusetts and Beyond," a one-day conference sponsored by the Kennedy School's Rappaport Institute for Greater Boston and the Program on Education Policy and Governance, brought more than 100 teachers, administrators, and academics from across the political spectrum to the Kennedy School Thursday, Oct. 11.
The MCAS, a statewide examination that 10th-graders must pass in order to graduate, has been embattled since it was introduced in 1993. Its supporters call it the keystone to a broad and ambitious agenda of education reform. Critics cite the high-stakes nature of the MCAS as too narrow to effectively assess students' abilities and argue that it will dictate curriculum to merely "teach to the test." According to MCAS scores released Monday, Oct. 15 – the first scores to determine whether or not students graduate – two-thirds of the 10th-graders who took the exam last spring passed.
"I think what this conference has shown is that there are enormous complexities to this," said Rappaport Institute Executive Director Charles Euchner. Euchner and Paul Peterson, director of the Program on Education Policy and Governance, moderated several discussions that sprang from papers presented at the conference.
Brian A. Jacob, an assistant professor at the Kennedy School, presented his research on high-stakes testing and school reform in Chicago. University of California, Los Angeles, economics professor Sandra E. Black discussed the impact of school quality on neighborhood and community life, demonstrating ways that standardized test scores can affect housing markets. Rick Hess of the University of Virginia explored pressures on school administrators resulting from the high rates of test failures.
Keynote speaker James Peyser, chairman of the state Board of Education, took the podium for a lunchtime address that presented the state's plan to reform education with the MCAS. If the seat was a hot one, Peyser was wearing asbestos trousers. "Most of the questions are questions I've heard before," he said after fielding some probing queries from the audience. "They reflect the fact that we are in uncharted waters.
In fact, Peyser welcomed the opportunity to share his views with this audience. "This is an issue which is certainly no stranger to controversy, to argument … but very rarely is it the subject of much actual dialogue and thoughtful discussion, and that's why it's so important to have forums like this," he said.
Peyser addressed MCAS criticism, some of which had been voiced earlier that day, head on. He dismissed the popular conception "that MCAS is this destructive force that will inflict upon the state of Massachusetts something on the order of an educational winter that none of us will ever recover from," he said.
"MCAS is ultimately not creating a problem but it is identifying a problem that many of us in this room knew existed for a very long time, we just didn't have a number to attach to it, a way to quantify it. And now we do," he said.
There is less incongruity between MCAS results and results of other standardized tests than critics say, he argued. By MCAS or any other standardized test results, only one-third of the state's students are performing at grade level in math and one-half in reading. Statistics are similar for adults in the workforce, he says.Describing MCAS as part of a broader education reform effort, Peyser lauded the exam for helping students in schools that "aren't working." Increased school accountability aims to identify and assist such schools, he said.
Notwithstanding the relatively high passing rates of the recent round of exams released on Monday, a chief criticism of the MCAS has been its high failure rate. Clarifying that the state's 1,800 schools are controlled locally, not by the state Department of Education, Peyser outlined several ways that the state is addressing the high rate at which students are failing the MCAS. The state is expanding opportunities for extra help, giving students the individual support of tutors and online instruction, and granting families up to $1,000 for tutoring.
To ensure fairness – a common criticism of MCAS is that it's unreasonable to pit a student's graduation on a one-day test – students have five shots at the exam between 10th grade and their senior year. In addition, Peyser says that the state is developing an appeals process to deal with students who perform well by all other measures but fail the MCAS. "It's going the extra mile to make sure that … every individual student is treated fairly," he said.
Finally, Peyser said that education reform is continuing to push for excellence among teachers as well as students. He outlined ways in which the state is working to train and attract more qualified teachers to its schools.
Peyser adeptly fielded hardball questions from the audience, addressing concerns about teachers' involvement, fairness of scoring, and potential increases in dropout rates skewing MCAS results. In the end, he was appreciative of the forum. "It's a group of thoughtful people who are brought together in a collegial environment," he said. "That doesn't happen often."