Elena Kagan, a former senior White House official, and John Coates, once a high-powered corporate attorney, have been appointed professors of law at the Law School (HLS). Kagan is an expert in administrative law, while Coates is a corporate and financial law specialist.
Kagan comes to her administrative law expertise as a teacher, researcher, and practitioner. From 1997 to 1999 she served as deputy assistant to President Clinton for domestic policy, and deputy director of the domestic policy council. Prior to this appointment, she was associate counsel to the president for two years.
"One of the great strengths of Harvard Law School is our ability to attract leaders from government and the corporate world to our faculty," said Todd Rakoff, dean of the J.D. program. "Elena Kagan's experience in the White House and John Coates' work in the private sector will give our students valuable insights into the world of legal practice."
For the past two years, Kagan has been a visiting professor at HLS while maintaining a tenured faculty appointment at the University of Chicago Law School.
"I'm thrilled – and also honored – to be joining the Harvard Law community. The faculty here is as intellectually stimulating as any I could hope for, and the students are a joy to teach," said Kagan.
Drawing from her White House experience, Kagan recently published an article titled "Presidential Administration," which focuses on American presidents' attempts to control the regulatory functions of executive branch agencies. She is currently studying the function of the executive office of the president in relation to the administrative agencies.
At HLS, Kagan teaches administrative law, constitutional law, and civil procedure, along with a seminar on the law surrounding the presidency. In addition to receiving her J.D. at the Law School, she holds an undergraduate degree from Princeton and a master's degree from Oxford.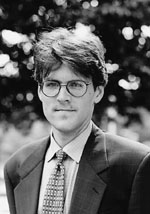 Prior to being appointed as an HLS assistant professor in 1997, Coates was a partner at the New York firm of Wachtell, Lipton, Rosen & Katz. Considered an expert in regulation and banking law, Coates' research has focused on the legal issues stemming from mergers and acquisitions and corporate takeovers. He recently published an article in the University of Pennsylvania Law Review on the value of minority shareholders in conflict transactions.
"I am pleased that John Coates will be joining our tenured faculty," said Dean Robert C. Clark. "His extensive knowledge of both the theory and practice of corporate law will enhance what is already the world's finest corporate law program."
At the Law School, Coates teaches "Corporations, Mergers & Acquisitions," and seminars on advanced aspects of corporate, securities, and financial institution law and regulation.
"I am delighted to continue as a teacher and scholar at the Law School that has built the best group of corporate and securities law faculty in the country," said Coates.
A 1989 graduate of the New York University School of Law, Coates also holds an undergraduate degree from the University of Virginia.