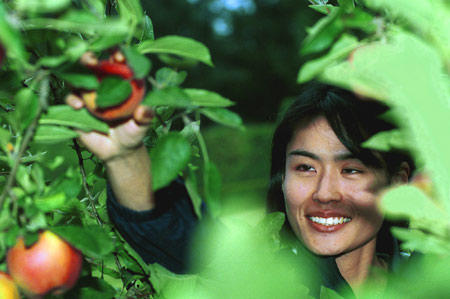 Staff photos by Jon Chase
Recently, a group of about 35 Harvard Neighbors ventured outside of Cambridge for the fragrant and only slightly demanding New England tradition of apple picking at the Honey Pot Orchards in Stow.
Participants clambered (or stepped gingerly) up ladders to reach for Red Delicious, McIntosh, and Cortland apples. Kids had a chance to feed the miniature goats, pigs, and rabbits, while their parents and other adult pals were selecting pumpkins to haunt their front porches. And everyone seemed to enjoy the picnic.
Harvard Neighbors is a volunteer organization that works to create a sense of community for members of the University. Membership is open to active and retired Harvard faculty and staff and their spouses or partners.
This annual event with Harvard Neighbors gives new arrivals to the University an opportunity to make new friends, meet other Harvard families, and to get to know some area attractions. Harvard Neighbors has other events planned for this year: Visit the Web site http://neighbors.harvard.edu, or call (617) 495-4313.