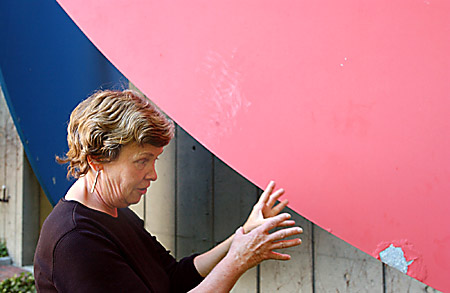 There's gold in them thar hills, and Emilie Norris is the prospector.
OK, not really gold. Norris is mining for art, sculpture, and historical artifacts buried in offices and houses and alleyways all over Harvard. She's not looking to strike it rich; rather, as project manager of Harvard's Cultural Properties Survey, Norris aims to help the University learn what it's got and how to protect and preserve its cultural riches.
Norris, who spent many years on the curatorial staff of the Busch-Reisinger Museum, was initially inspired by Harvard's outdoor sculptures, many of which are by prominent artists but are tucked out of view and are suffering the damaging effects of the elements. Then there are the five Mark Rothko murals, donated by the artist in 1962 for the penthouse of the Holyoke Center, which faded so badly they were removed from display. The large murals, once-rosy color fields, were so damaged by the sun that Norris says they "look like X-rays of their former selves."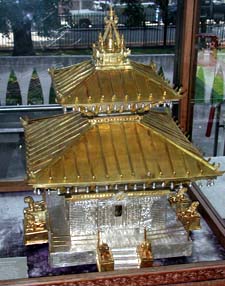 Like much of Harvard's art, the Rothko murals and most of the outdoor sculptures don't belong to the Fogg, Busch-Reisinger, or Sackler museums. "There is art around Harvard that is owned by the Harvard Corporation, by departments, by the houses, and not by the art museums or the libraries, which have inventory systems," said Norris. "I perceived a need to have some central place where information could be collected about these."
So in April, with three years of funding from former provost Harvey V. Fineberg, Norris got to work. She wrote letters to house masters, department heads, and administrators, imploring them to alert her to anything of cultural significance in their realm. She created a database, which currently holds only a few hundred records but which she expects to swell to thousands.
Now Norris spends her days treasure hunting. Digital camera in tow, she scours items for identifying plaques and labels. Drawing on her own extensive knowledge, as well as that of her museum colleagues, she assesses artistic or historical value. She also looks for signs of wear and notes those in her database.
Norris is progressing across campus geographically, concentrating first on the residential houses, but also staying flexible. "As I hear about things, or as a building is being renovated, or a house master is moving out, that's a great time to document things while I'm not in people's way," she says. Even planning for this article turned up a tip: Did she know that people at the Kennedy School were using a beat-up desk that once belonged to legendary newsman Edward R. Murrow?
Her fledgling database already holds some interesting records. Another desk, this one at the Davis Center for Russian Research, came from the Winter Palace in Russia. The Quincy House Library is home to an intricate model of a Buddhist Stupa and a Hindu temple, a gift made by the King and Queen of Nepal on a 1983 visit. Josiah Quincy's walking stick also lives at Quincy House. It's rumored that the splits along the body of the cane are from unruly students' backsides; Norris says that the former Harvard president was a notorious disciplinarian.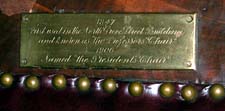 "Some buildings are just chock-a-block" with items of interest, she says, noting that enhanced security for some of these valuables will be a happy by-product of her project.
"In many cases, departments know what they have, but they may not have so much information about where it's from or how it should be cared for or how it got there," she says. One department she visited had a watercolor by the French artist Raoul Dufy (1877-1953) on its wall. Norris shared with the staff not only Dufy's prominence as a painter, but also his local significance: crippled by arthritis, he came to Boston to undergo experimental and ultimately successful treatment with cortisone.
As word of her project spreads, Norris gets calls from likely sources, and surprising ones. "Sometimes a faculty member will say 'oh, I have something in my file cabinet,' and it could be a lovely old antique which was given to the department, or a small painting," she says. In at least one case, some valuable but challenging artworks were carelessly stored and suffered damage because members of the department had little interest in them.
Conservation of the University's art and artifacts is a top priority of Norris', and a particular concern for the many items that exist outside the purview of Harvard's museums. Some well-intentioned managers at Peabody Terrace, for instance, were planning to touch up a rusting sculpture outside the parking garage there with Rust-Oleum paint. Not so fast, said Norris, who told them that the sculpture, called "Blue Red," is by the eminent contemporary American artist Ellsworth Kelly and is deserving of a conservator's attention, not a hardware-store paint job.
Norris believes that tracking and cataloging all the University's cultural riches will create a valuable educational and administrative resource. Still, she doubts that she'll unearth any "Antiques Roadshow"-style bonanzas, those priceless knickknacks that were used as footstools or forgotten in dusty attics. In recent years, she suspects, most of the University's attics and other hiding spaces have been inspected. Plus, "Harvard has a lot of savvy people," she says, who are likely to know when they've got something of value.
To submit an object to the Cultural Properties Survey, contact Emilie Norris at (617) 384-7258 or norris@fas.harvard.edu.
Contact Beth Potier at beth_potier@harvard.edu