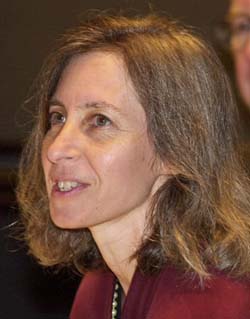 An increasingly competitive and deregulated market economy has dramatically changed the medical and legal professions, a panel of five experts agreed last Friday during one of six symposia held to commemorate the inauguration of new Harvard President Lawrence H. Summers.
But the panel did not concur on whether these changes – particularly a heightened focus on turning large profits – have improved medical and legal services or degraded the quality of work being done in these crucial fields.
The symposium, titled "The Professional Ethic Meets the Market Economy: Professional Education in a Global Society," was moderated by Dennis F. Thompson, associate provost and the Alfred North Whitehead Professor of Political Philosophy. Thompson asked the panel to discuss whether the forces of the global market are undermining professional ideals, and, if so, what educators should do to better prepare their students.
Several panel members felt economic pressures have greatly eroded professionalism. They expressed concern that today's young doctors and lawyers are emerging from universities more interested in making money than in helping people.
"Increasing control by the market is now the greatest threat to medical professionalism, and we see medical professionals acting more like businessmen than ever before," said Arnold S. Relman, a senior physician at Brigham and Women's Hospital and professor emeritus at Harvard Medical School (HMS). "If these trends continue, our health-care system will be in serious trouble."
Relman said he is concerned about the increasingly cozy relationship between doctors and pharmaceutical companies, which fund much-needed clinical research that can lead to new cures for life-threatening diseases. This relationship, Relman worried, may threaten medical professionals' ability to be objective in their work. Academic centers that perform research for for-profit companies – such as one recently created at Harvard – are a cause for concern for the same reason, Relman said.
But Samuel O. Thier, president and chief executive officer of Partners HealthCare System Inc., and professor of medicine and health care policy at HMS, said the medical industry and academia must interact "in order to produce innovations that will improve public health." Without investment into research by the for-profit sector, Thier said, many medical breakthroughs would not occur.
As for the legal profession, Harvard Law School Professor Martha L. Minow said the ever-expanding ranks of lawyers plus technological advances and rising competition among firms lead to longer and longer workdays for people entering the field. This degrades both the quality of life for young lawyers and the quality of service they are able to provide, she said.
"The quality of the profession is in major jeopardy right now," Minow said. " I don't think you can be a good lawyer or give good advice if you don't have a life."
Minow said she's disturbed that money has become the defining factor in conversations between lawyers and other professionals. She worries that young people are not embodying values like fairness and equality when they go to work. She pointed out that the number of lawyers nationwide continues to increase yet good legal representation remains out of reach for those who cannot afford to pay top dollar for it.
Michael J. Sandel, Harvard College Professor and professor of government, suggested that the medical and legal professions cannot be looked at in the same light. Doctors must be driven by an altruistic desire to help people and ease their suffering in order to be successful in their field, he said, while lawyers can make profit their main goal and still adequately serve their clients.
"It is the case for medicine that services are corrupted by commercialization, but law is not," Sandel said. "For money to intrude as a motive corrupts the ideal that justifies medicine in the first place – namely, health."
Sandel argued that law is "more like selling refrigerators or cell phones," and therefore is not damaged by the open market. "To be a good lawyer is not to aim directly at justice, but to advance the interest of your paying clients," he said.
But Justice Richard A. Posner, a judge for the U.S. Court of Appeals for the 7th Circuit in Chicago, said he thinks too much emphasis is placed on the supposed "altruism" of professionals – both medical and legal. Neither doctors nor lawyers need to operate out of a desire to assist people rather than an interest in making money, he said. They can practice solely out of the interest in earning large salaries and still provide their clients and patents with superb service and care.
"People don't go into demanding jobs simply because they want to help others, " he said. "It's a fundamental error to put too much emphasis on altruism. I don't believe businessmen have a lower ethical standard than professionals. There's not necessarily a distinction to be made between making money and doing good."