Call it a home field – or home river – advantage.
Harvard rowers made an impressive showing among an international competition at the 37th annual Head of the Charles regatta this past weekend (Oct. 20-21). The balmy fall weather brought a reported 300,000 spectators to the shores of the Charles.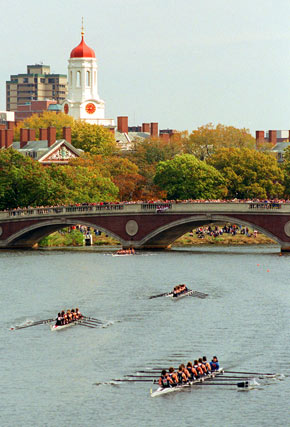 Crimson men's boats won the Collegiate Eight, the Club Eight, and the Youth Eight events. The Harvard heavyweight boat, winner of the Collegiate Eight, placed third in the Championship Eight, bested only by the U.S. and German national rowing teams.
"Overall, it was a very strong performance," said Harry Parker, Robert G. Stone Jr. Family Harvard Men's Crew Coach. "It might be almost the best that we've done." Parker was especially pleased with the third-place finish in the Championship Eight, a race that's difficult to win because it pits college boats against national teams.
While the Head of the Charles wins boost the Harvard team's bragging rights, the regatta is not an intercollegiate event and is outside the collegiate crew season; results don't factor in the team's season record. Still, says Parker, "it's a harbinger of what might take place in the spring," when the team's regular season begins.
Radcliffe boats also did well, taking second place in the Youth Eight, first among collegiate teams. Radcliffe lightweight boats grabbed third place in the Lightweight Eight event and eighth place in the Lightweight Four.
And Parker, who has led Crimson rowers for nearly four decades, did more than stand on the sidelines. He raced in the Veteran Singles event, placing sixth. "I had a good row. It was fun," he said.