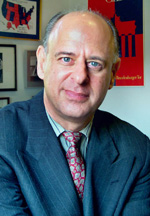 Alan Stone, vice president for public affairs at Columbia University, an experienced professional in government relations and communications, has been appointed vice president for Government, Community, and Public Affairs at Harvard University, President Lawrence H. Summers announced today.
Beginning in November, Stone will oversee Harvard's relations with all levels of government – federal, state, and local; coordinate a wide range of activities involving the University's neighboring communities; and manage communications and media relations.
"I am confident that Alan Stone will provide the leadership necessary to preserve and enhance a complex array of external relationships," said Summers in his announcement. "I am impressed with Alan's breadth of experience, his grasp of the challenges inherent in this position, and his steady demeanor. He has a distinguished record of service at the most senior levels of government in policy-making and politics, making him ideally suited for this assignment. I look forward to welcoming Alan to our community."
"Increasingly, universities find themselves having to deal skillfully with the press, having to make a more compelling case for government funds, and having to be more fair and open with their own communities," said Stone. "This is as it should be, and to the extent that I can assist the students, faculty, and staff of Harvard, and President Summers, achieve these goals, I welcome the opportunity. I am extremely excited to be coming to Harvard."
During his time at Columbia, Stone helped initiate a comprehensive program to expand economic linkages between Columbia, the community, and the city; worked with Fannie Mae to design and implement a home-ownership program in a nearby Harlem Empowerment Zone; and initiated a new series of programs and relationships designed to broaden and improve the interactions between the university and its neighbors.
As the first vice president for public affairs at Columbia, Stone created a universitywide Governing Relations Coordinating Committee and was responsible for revamping the university's press and publications operations, making Columbia, its faculty, and administration more transparent and accessible to the media.
Stone has extensive experience at the federal level, having served as the legislative director to a U.S. senator, staff director to two congressional committees, and counsel to a third. He also directed the Senate Select Committee on Nutrition and Human Needs during a time in which the national commitment to anti-hunger efforts increased substantially.
He has served as a senior adviser and speechwriter for political and civic organizations, including his work as a speechwriter for President Clinton during his campaign and in the White House.
Stone was born June 10, 1944, in Chicago. He earned his B.A. at Miami University in Ohio in 1966 and his law degree at George Washington University in 1969. From 1970 to 1972, he served as a VISTA attorney in Worcester, Mass., and in 1972, opened a rural legal services office in Colorado. As part of his work with the Senate Nutrition Committee, he helped develop a number of anti-hunger initiatives, including the Women, Infants, and Children program (WIC).
He was counsel to the Senate Democratic Policy Committee from 1981 to 1983 and then served for four years as staff director and counsel to the House Select Committee on Children, Youth, and Families, a committee he was a principal force in creating. Stone was the chief speechwriter for the National Education Association from 1987 to 1989 and senior adviser to the Carnegie Foundation on Teaching from 1988 to 1992. He was also a start-up consultant to the Tufts Center on Hunger, Poverty, and Nutrition from 1991 to 1993.
CAP: Alan Stone