Chinese historian Jonathan D. Spence will illuminate the life of the mind in 17th century China when he speaks as part of the Dean's Lecture Series sponsored by the Radcliffe Institute for Advanced Study. The lecture is free and open to the public.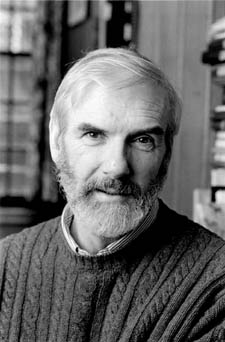 In his talk, "The Fall of the Ming and the Art of Nostalgia," Spence will concentrate on the way emotions and memories were artfully shaped by Chinese aesthetes who lost everything during the Manchu conquest in 1644.
"Deprived of their possessions, their minds were free to re-create what once had brought them joy," said Spence, Sterling Professor of History at Yale University, who has taught there since 1965. "Perhaps there are parallels in that story to the experience of many Chinese in the 20th century."
The lecture will take place in Askwith Lecture Hall, Longfellow Hall, 16 Appian Way, on Thursday, Oct. 25, at 4 p.m.
"I am pleased that we can present such a distinguished Chinese historian as part of our lecture series," said Drew Gilpin Faust, the dean of Radcliffe Institute. "His talk will enrich the intellectual discourse that is already taking place among our new fellows this year, a number of whom are scholars in Chinese studies."
Spence has written 12 books on the role of history in the shaping of modern China. His most recent book, "Treason by the Book" (Viking Press, 2001), explores the writings of Chinese patriots who had hoped to oust the Manchus from the throne. Reviewers have called Spence "a dexterous storyteller" and have likened the book to a mystery novel.
In 1999, his biography of Mao Zedung was published as part of the "Penguin Lives" series.
Spence was named a MacArthur fellow in 1988 and a fellow of the American Academy of Arts and Sciences in 1985. Other honors include the Los Angeles History Prize in 1982 and an appointment to the Council of Scholars at the Library of Congress in 1988.
The next lecture in the series features novelist Margaret Atwood on Nov. 19. Other series speakers include Susan L. Graham, professor of computer science at the University of California, Berkeley, on Nov. 29; Shirley M. Caldwell Tilghman, president of Princeton University, on March 18; and Donna J. Haraway, professor of the history of consciousness at the University of California, Santa Cruz, on April 24.
For more information on the series, contact the Office of the Dean at the Radcliffe Institute at (617) 496-3052 or visit http://www.radcliffe.edu.