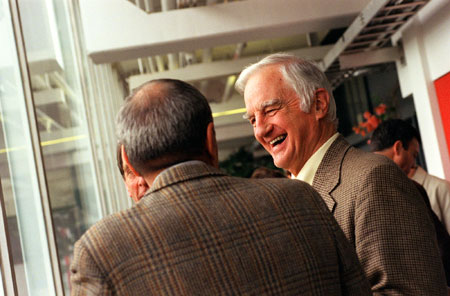 Twenty-five years ago, when research ruled at Harvard, President Derek Bok set out on a seemingly quixotic mission to increase incentives for teaching. His campaign created the Derek Bok Center for Teaching and Learning, which marked its 25th anniversary Friday (Oct. 19).
The center's namesake was on hand for the celebration, which featured speeches, awards, and refreshments in the center's facilities on the third floor of the Science Center. Bok, president of Harvard from 1971 to 1991, admitted that the center has "wildly exceeded any expectations I may have had for it."
Launched in 1976 as the Harvard-Danforth Center for Teaching and Learning in recognition of start-up funding from the Danforth Foundation, the center provides services to anyone teaching Harvard undergraduates. "Our primary goal is to improve undergraduate education," said center director Jim Wilkinson. "We hope that good teaching results in good learning."
The center offers a range of services, from orientations to videotaping and one-on-one consultations. The services are offered primarily to teaching fellows and junior faculty members who, while well-versed in their subject matter, might be new to teaching. Wilkinson points out that the center avoids one-size-fits-all fixes to pedagogical problems. "We try to be very sensitive to the needs and strengths of all the different courses," he said.
At Friday's celebration, Bok, Faculty of Arts and Sciences Dean Jeremy R. Knowles, and Graduate School of Arts and Sciences (GSAS) Dean Peter Ellison tossed what Knowles called "metaphorical bouquets" at the center. "I believe the faculty and our students view the Bok Center more as a spa than a reformatory," said Knowles. "It's a welcoming place where one can get better."
Bok recalled the center's birth in 1976, when "the climate for improving teaching was a good bit chillier," he said. "I didn't know what we could expect when we started it." In his final year as president, however, he had a hint of his success when the entire physics department – Nobels and all – voted unanimously to be videotaped by the center. "I was absolutely amazed," said Bok.
"It is remarkable how much has changed," said Wilkinson, who has directed the center since 1988. "There has been a recognition that it is possible to train people to become better teachers." He also notes that the value of teaching has increased, even at a research university like Harvard. "There's a growing interest in having teaching that is commensurate with the financial sacrifices that parents are making to send their children here," he said.
Increased commitment to teaching is a national trend, and the Bok Center, one of the oldest such resources in the country, has spawned many imitators, of which its founders are justifiably proud. Nationwide, there are now close to 400 teaching centers at universities. They've sprouted up at other Ivy League schools in the past five years. "They've all come and asked us 'how do you do it?'" Wilkinson said.
In addition to marking the center's silver anniversary, the event also honored over 300 teaching fellows who received the center's Harvard University Certificate of Distinction in Teaching, awarded to those who achieved 4.5 or above on the 5-point Committee on Undergraduate Education (CUE) evaluation scale. "They are among the very best teachers we have here," said GSAS Dean Ellison. "The role of the Bok Center in providing guidance to our graduate students elevates their experience," he added.
For teaching fellows, it's not only better course evaluations or calmer nerves that make the Bok Center a destination. As graduate students take their fresh Ph.D.s into the tight job market, Wilkinson is confident that strong teaching skills give them an edge for professorships.
Eric Weinberger, a preceptor in expository writing and winner of one of the awards, used the Bok Center's one-on-one services a year ago, meeting with center associate director Lee Warren. Her guidance – evaluating how his lectures progressed and identifying when he was losing students' attention – gave Weinberger perspective to improve his teaching. "You're performing for 50 minutes and you don't have a complete sense of what's going on," he said. A two-year veteran of teaching at Harvard, Weinberger has watched his CUE scores climb each semester. "It's quite satisfying," he said.
Interactions like Weinberger's – connecting master teacher with teaching fellow and teaching fellow with undergraduates – are at the heart of the Derek Bok Center. "We think of ourselves not just as dispensing wisdom but as bringing people together," said Wilkinson. "One of the exciting things about working at the Bok Center is tapping into Harvard's reservoir of talent and concern."