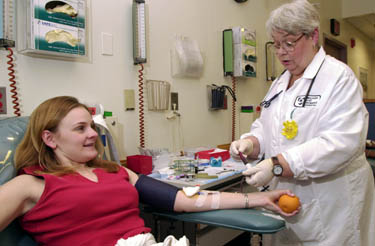 Harvard University Health Services (UHS) is providing buses for members of the Harvard community to get to blood donation centers at Brigham and Women's and Children's hospitals in the Longwood Medical Area. Buses will leave from Johnson Gate at 8 a.m., noon, and 5 p.m. for the next two or three days, depending on need and capacity.
UHS requests that would-be donors reserve spaces on the buses; they are discouraging walk-ups to the shuttle buses. Volunteers should write to donation@uhs.harvard.edu with their name, e-mail address, phone number, and blood type (if known).
To make an appointment to donate blood without using UHS's bus service, contact Brigham and Women's Hospital directly at (617) 732-6620.
The American Red Cross is also coordinating blood donations. Contact that organization at 1-800-GIVE-BLOOD or visit http://www.newenglandblood.org or http://www.mms.org/pages/blood_donation_sites.asp