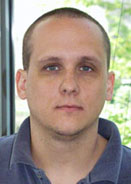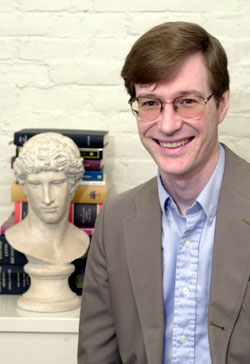 Two untenured members of the Faculty of Arts and Sciences (FAS) have been named this year's Roslyn Abramson Award winners for outstanding undergraduate teaching.
Assistant Professors Michael Blake of philosophy, and Eric Robinson of the classics and of history, were notified of the $5,500 award in August. Winners can choose to receive the award, the amount of which varies from year to year, in different forms, such as summer salary or additional research money.
"The Abramson awardees are both remarkable and inspiring teachers," said FAS Dean Jeremy R. Knowles. "We are fortunate to have two such uplifting contributors to the curriculum."
The Abramson Award winners are chosen each year based on the candidates' ability to communicate with and inspire undergraduates, their accessibility to undergraduates, their sensitivity to undergraduates' needs, and their devotion to teaching.
Blake, who teaches a Core course, "Moral Reasoning: Reasoning in and about the Law," received high praise from students over the past two years in a course in which enrollment nearly doubled, from 404 in 1999-00 to 796 in 2000-01. Blake is spending this year at Princeton University as the Laurance S. Rockefeller Fellow at the University Center for Human Values.
"Undergraduate teaching is often the best part of my day," said Blake, who added that he doesn't use any particular tricks or techniques to reach students. "I just try to talk to people."
"Of Professor Blake it is said that 'Every course that Blake teaches becomes huge unless it is capped,'" Knowles said. "Here is a colleague who attracts more than 800 students to his Core course in moral reasoning and manages to conduct a conversation with them all."
"Everyone in my department is delighted that Michael won," said Philosophy Department Chair Christine Korsgaard, Arthur Kingsley Porter Professor of Philosophy. "He's a dedicated teacher and I think he is successful in part because his passion for his subject really shows."
Robinson has taught eight different courses in two departments and the Core over the past two years, including History 10a. Though the courses were varied, with enrollments ranging from six to 132, students were enthusiastic about each.
"One student commented about Professor Robinson that 'If anyone doesn't think ancient history is interesting, Robinson will change that perception in a few minutes. …' He is wonderfully versatile, and very attentive to his students," Knowles said.
Classics Department Chair Richard Thomas said he was pleased to hear that Robinson had won.
"It's wonderful," Thomas said. "My department has always put a large premium on good teaching. It's wonderful to see recognition for such a young member of the community."
David Blackbourn, Coolidge Professor of History and chair of the History Department, said he is delighted at the recognition Robinson received.
"He has helped build a real following for ancient history among undergraduates with his imaginative, broad-gauge courses," Blackbourn said. "His enthusiasm for his subject and for teaching communicates itself to undergraduates, who also appreciate the care with which he puts his courses together and his accessibility."
Robinson was thrilled when he heard about the award. Though research is critical at the University, he said he really doesn't think anything outstrips the importance of undergraduate teaching. When asked whether he uses any particular methods or techniques to get through to students, Robinson said he tries to relay his own enthusiasm for the subject and tries to make ancient history relate to current social and political issues.
"It was such a thrill to have won this award," Robinson said. "I feel very honored …. I think undergraduate teaching is about the most important thing I can do here and so to be honored for doing it well is wonderfully gratifying."