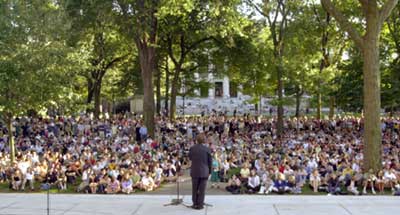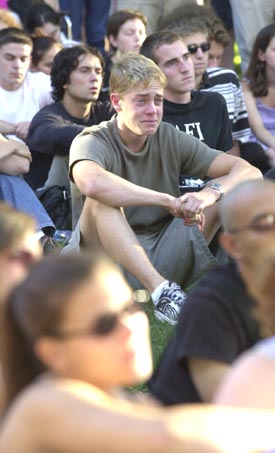 As the bell of the Memorial Church called the Harvard community to a vigil in Tercentenary Theatre Tuesday evening, its inscription – "In memory of voices that are hushed" – rang as true as its pealing.
"We come together, united by a sense of shock, of sadness, of outrage," said President Lawrence H. Summers to a crowd of approximately 5,000. "When comprehension fails, we must turn to each other, turn to prayer, turn to faith. We as a university community have a special obligation to try to make sense of events like these that occurred today. Let us commit ourselves to seeking that understanding as a community."
The multi-faith vigil on the south steps of the Memorial Church, which incorporated readings, prayers, and music from Christian, Islamic, and Jewish traditions, was the most visible of Harvard's many religious and spiritual responses to the day's tragic events.
Law School students from the Catholic Law Students Association, the Jewish Law Students Association, and other faith groups held an inter-faith service Tuesday night in Langdell North; over 150 students attended. At the Business School, students gathered for a vigil Tuesday afternoon outside the Class of '59 Chapel. The Divinity School had a gathering Tuesday at noon on the Andover Lawn and altered its Convocation ceremonies Wednesday to reflect on Tuesday's events.
The Memorial Church remained open throughout Tuesday night for prayer and consultation with chaplains from the United Ministry, the University's interfaith coalition; it was well-attended through early Wednesday morning. Wednesday's morning prayers – the first of the new academic season – filled Appleton Chapel. The Rev. Peter J. Gomes, Plummer Professor of Christian Morals and Pusey Minister in the Memorial Church, spoke about the "sacrament of the routine."
"For all of us, the habit of worship, like exercise and breathing, is a routine that literally keeps us alive and in balance," he said. "Habit in the face of terror is not simply consoling; it is empowering. It suggests that there is something over which we have not lost control; and a holy habit such as daily prayers in the face of temptations to fear, intimidation, or indifference is the source of an inner strength that even the worst outward circumstances cannot destroy." Daily prayers have been a Harvard "habit" since the College's founding in 1636.
Recognizing that the need for spiritual comfort will continue, all 39 chaplains and ministers of the United Ministry will be available to assist students and others in the Harvard community. They can be reached at (617) 495-5529 or http://www.ministry.harvard.edu.
At this time, no other services related to the New York/Washington attacks have been scheduled. The Memorial Church will hold Sunday services as usual, at 11 a.m. The Divinity School's two chapels, Andover Chapel and Divinity Hall, will remain open all week.
Additional events and services will be posted on http://www.harvard.edu.