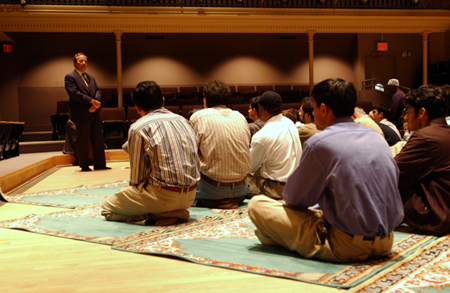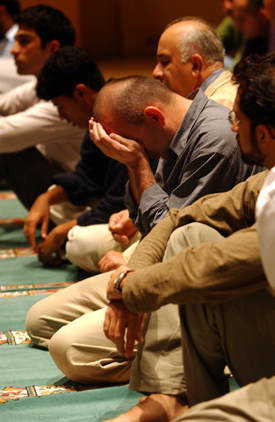 This past Friday afternoon (Sept. 21), members of Harvard's Muslim community came to Lowell Lecture Hall for prayer. The gathering, known as Jum'a, is a regular weekly occurrence, but the events of Sept. 11 made it anything but ordinary.
To further mark the significance of the occasion, a special guest came to address the congregation – Harvard President Lawrence H. Summers.
"I am glad to have this opportunity to be here," Summers said, speaking in quiet, measured tones. "This is not an easy moment. No words can capture the complexity of what has happened. On one level, planes have been hijacked. On a different level, and no less insidious, a faith that is committed to peace, a faith that is one of the great religions of the world, was hijacked, stolen."
Summers said that he had come to underscore the University's commitment to its Muslim community and to the culture it represents.
"We cannot tolerate any failure to respect individuals as individuals or to respect a tradition that must be judged by what has been done over the past 1,400 years, not by the actions of particular people," he said.
Afterward, Taha Abdul-Basser of the United Ministry led the congregation in prayer and delivered a sermon with obvious relevance to the terrorist attacks.
"The religion of Islam is for human beings, and therefore human beings must be protected," he said. "The sanctity of life is a principle about which there is no controversy."
There are exceptions to this rule, Abdul-Basser said, but Muslim law is very specific about the circumstances under which it is permissible to take a life. In any case, attacking noncombatants or those who are incapable of defending themselves is strictly forbidden, regardless of whether they are Muslim or non-Muslim.
"When we see those who claim to be Muslim who are acting in a way that is contrary to the principles of Islam, we must speak out against them," he said.
Contact Ken Gewertz at ken_gewertz@harvard.edu