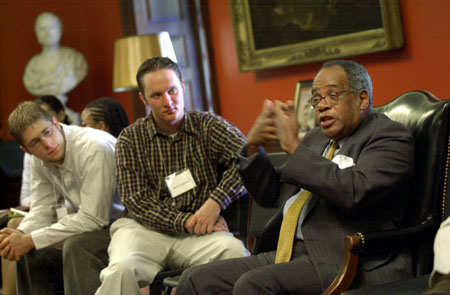 What's my motivation for doing good? How do I recruit volunteers for my program? How can I justify all this time spent on public service to my parents?
From Sept. 4 to 6, 25 Harvard student leaders grappled with these and other questions as they made connections with their peers and professionals at Harvard's first Public Service Leadership Summit, coordinated by the Faculty of Arts and Sciences (FAS) Committee on Public Service. Subtitled "Personal Identity in Public Service: Inspire, Connect, and Recharge," the summit brought together leaders from diverse areas of public service around Harvard, from youth mentoring to homelessness to teaching English.
"We want to help public service leaders build skills to run their programs," said Trevor Dryer '02, a member of the FAS Committee and a student organizer, along with Michelle Lee '03, of the summit. Networking and collaboration among public service groups – which are so great in number that students may be unaware of others working in similar fields – is another goal of the summit, Dryer added.
The summit brought public service professionals from the Harvard campus and the greater Boston community to lead panels and workshops. City Year USA Vice President Charlie Rose led the group's first session, splitting participants into pairs to probe issues such as the roots of public service in the family and difficult experiences related to public service work. "We're bringing together leaders," said Rose, who co-owns the Milky Way Lounge and Lanes bowling alley in Jamaica Plain, where summit participants relaxed one evening. "When people realize the bonds between them, it strengthens everybody."
A lunch panel, "Professionals in Public Service," introduced three community leaders to help students consider careers that put their values to work beyond the traditional public service model. State Rep. Jarrett Barrios '90, FleetBoston executive Gail Snowden '67, and pediatrician and Adams House co-tutor Sean Palfrey '67 shared their insights on how public service informed their career paths, showing students that there are many ways to "do well by doing good" that go beyond the traditional nonprofit.
Snowden, executive vice president and managing director of Fleet's Community Banking Group and Community Reinvestment, is a 33-year veteran of Fleet (formerly Bank of Boston). The daughter of political activists, she entered the bank's training program because "public service was what I was trying to get away from." After 10 years in retail banking and loans, she returned to her core values, working to recruit and train more women and people of color, then got involved in community reinvestment, creating what's become a national model. "Tell your parents you can make money doing this," she assured the public service leaders. "But you have to be able to mesh with the corporate culture."
"Public service is not so much a career as a mindset," pediatrician Sean Palfrey told the students. He explained that although his career as a doctor is not often thought of as public service, he made choices that kept him focused on needier populations and causes. "There are endless ways of doing good things," he said.
Jarrett Barrios, the son of working-class Cuban Americans, applied to Harvard on a dare and did the Freshman Urban Program as part of his orientation. "My introduction to Cambridge was doing a pretty miserable paint job as part of a mural project for the Cambridge Youth Center," he admitted, adding that the experience set him on a path of public service and leadership. "Public service is a way of life," he said. "You give a lot but you also get a hell of a lot back."
The public service leaders also heard from Teach for America founder Wendy Kopp; the Rev. Peter J. Gomes, Plummer Professor of Christian Morals and Pusey Minister in the Memorial Church; Steve Goldsmith, chair of the Corporation for National Service; Kennedy School of Government lecturer Marshall Ganz; and Harvard President Lawrence H. Summers. Summers, who asked all the students to introduce themselves and describe their public service activities, assured them that "these activities make a very big difference in the community." He encouraged the students to evaluate their projects and focus on their effectiveness, and cautioned them about confusing political activity with public service. "The highest morality is to work very hard to do what is most effective," he said.
Although launching a new program from scratch was "really scary," Meg Brooks Swift, director of the Harvard Public Service Network, called the summit "a great forum for people to engage in conversations they don't normally engage in, and an opportunity to think about the broader side of public service."
The student leaders, who were selected by written application and who arrived early on campus to participate, deemed the summit a success. "Meeting all the other leaders has been the most valuable," said organizer Lee, director of the Housing Opportunities Program and an officer of the Phillips Brooks House Association. "There's potential for collaboration and friendships with people who have similar concerns that you do."
For Alice Yang '03, director of Chinatown ESL, the workshops and panels reminded her of the significance of her work. "The opportunity to reconnect with why I do service and the joy we get out of it has been wonderful," she said.
Contact Beth Potier at beth_potier@harvard.edu