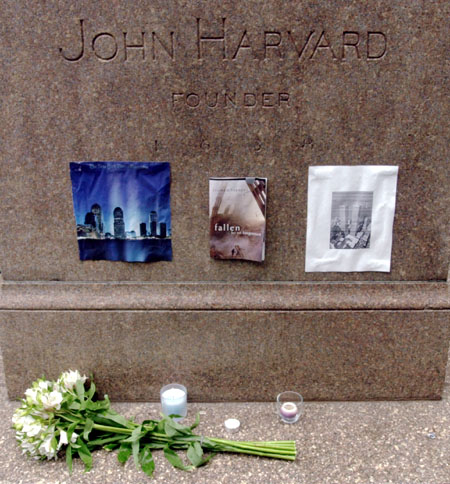 Photo by Jon Chase
Its poignancy is its simplicity. Three candles, snuffed out. A bunch of irises, white and speckled red on long green stems, kept fresh by the recent rains. A bit of tree branch, leaves slowly yellowing. And an origami crane, symbolizing long life and happiness, fashioned from foil.
And taped to the base of the John Harvard statue above, three pages with photos of New York: showing the World Trade Center towers as they stood on Sept. 10, as their crumbled wreckage stands today, and as the New York skyline looks now – empty.
The impromptu memorial to the victims of the Sept. 11 World Trade Center tragedy draws barely a glance from T-shirted students and University staff hustling by, between classes and meetings. Perhaps it's because they're focused on their destination. Perhaps it's because they've passed the spot many times this week. Perhaps it's because they've listened, and watched, and grieved so much already.
But occasionally a glance still lingers on the three pages. Steps slow to examine the arranged items. Then a rustle above draws the eyes up, to a large American flag, waving slowly as it watches over John Harvard and the assembled items below.
The person moves on. And the flag and the statue, and the simple memorial to courage amid horror, wait for someone else to slow and stop and look.
We serve the public interest! Interesting people, interesting jobs, interesting hobbies – we want them in the Big Picture. If you have an idea for the Big Picture, give us a buzz at big_picture@harvard.edu