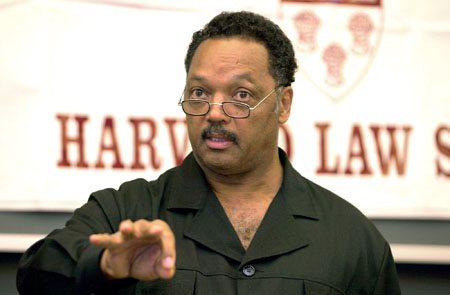 Speaking this morning on "America's Response to Terrorism" at Harvard Law School, the Rev. Jesse Jackson called for the United States to build coalitions with other countries and urged its citizens to unite against prejudice.
"It's easy to handle triumph. Can we handle trouble or disaster?" said Jackson. "Let us rise together for hope, healing, and a vision for the new world order."
Before a packed audience of students and media in Austin Hall, Jackson said the country should "build bridges and relationships, not simply bombs and walls." The former presidential candidate said that the U.S. leadership should not hurt innocent people in the war against terrorism. "We must use precise intelligence over indiscriminate bombing," he said.