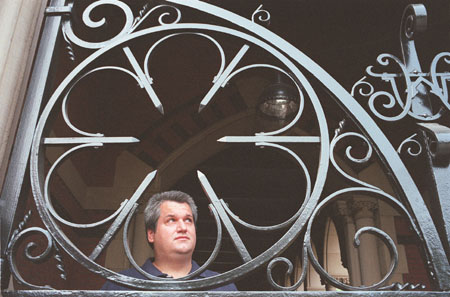 For Joe Nullet, the road to graduation from Harvard was dotted with the usual seminars, final exams, and late-night study sessions. But Nullet also took leisurely rest stops for getting married, having a family, owning a business, and launching a career. Total travel time: 22 years.
It turns out that the scenic route was the very best route.
Nullet, who completed his Harvard undergraduate course work last month in summer school and will receive his diploma at next spring's commencement, came to Harvard in 1980 as a freshman in the class of '84. In the fall of his senior year, his academic record was sufficiently blemished that he was asked to leave. "I was following a formula that I had seen implemented by several of my classmates: sporadic class attendance, frequent partying, and a mad rush come reading period to catch up. But I didn't seem to balance it too well," he says.
So for the next 15 years, Nullet simply went about his life. He moved south, worked in the restaurant industry, owned several TCBY yogurt franchises, got married, had a pair of sons. In 1997, he got a job running the food service at the I.M. Sulzbacher Center for the Homeless, a prominent 300-bed facility in Jacksonville, Fla. A rising star there, Nullet soon became director of guest services, overseeing the entire operation of the shelter and helping to re-think its philosophy and revamp its programs.
Inspired by his work at the shelter, Nullet set his sights on furthering his career in the nonprofit world. "Once you start doing something you enjoy, you're going to find success," he says. At his otherwise positive performance review in 2000, his executive director pointed out that his lack of a college degree would hinder his growth in the nonprofit field. "When she found out how close I came to actually finishing my degree at Harvard, she really started to promote the idea of going back," he says. "I had always thought about it in the back of my mind, but I didn't really think it was feasible."
His undergraduate days were a fading memory, replaced by more immediate concerns like a job, a mortgage, and a family, so Nullet looked to local colleges in Jacksonville for a practical way to finish his degree. He learned, however, that transferring his Harvard credits to another college would set him even further back from his goal. Calling his almost alma mater, "to my amazement we found out I was only eight classes short."
So in January, Nullet loaded his pickup, rented an Inman Square apartment he describes as "a shoebox," and joined the ranks of Harvard undergraduates – again.
What a difference a few decades make. With only one required course in his major, English, Nullet had seven electives to take. Browsing the course catalog, he says, "was like I had been let loose in a candy store." He packed his spring semester with five classes and took three in the summer, tailoring his second chance at college to his grown-up interests. Courses in grant-writing, managing nonprofit organizations, and the American family resonated with his work at the homeless shelter. He cross-registered for courses at the Kennedy School and the Graduate School of Education, something that "as a fledgling student in the '80s, I never would have considered," he says.
"The difference now is that I have a real distinct advantage of knowing what I want to do with my life," says Nullet. "There's an intellectual curiosity that's there that never existed before. I'm just excited about the classes, and all the topics I took." Even his one required course, "The American Novel From Dreiser to the End of the Century," was a pleasure; Nullet calls it his favorite, crediting in part the dynamic teaching of Philip Fisher.
Still youthful but clearly not 18, Nullet greeted his return to Harvard with first-day-of-school jitters. "I felt incredibly out of place on my first day, like a freak of nature," he says. "I wasn't sure if I could fit in academically. Forget about socially." By midway through the semester, however, Nullet's fears disappeared. "The students were just great. They were all interested in my perspective," he says. "I knew I belonged and I knew I could compete and I knew I could get the grades."
The grades he got were good ones – so impressive that Tom Dingman, his Dudley House tutor, urged him to walk in this year's commencement ceremonies, even though he still had his summer courses to complete. Nullet declined. "I didn't wait 16 years to come back for an empty tube," he says. This was Nullet's second encounter with the tutor; as his senior tutor at Leverett House in the '80s, Dingman had delivered much gloomier academic news.
Although he's the one who sweated through exams and wrote the papers, Nullet shares the credit for his newfound academic success with his family, especially his wife, Trina. "I couldn't have done any of it without her; she's been incredible," he says, noting that she's continued to work while being a temporary single parent to the couple's sons, Joey, 11, and Luke, 3. The family bore a considerable financial burden to send Nullet back to Harvard, taking out a second mortgage on their home to cover not only his tuition and living expenses, but also the loss of income from his job. His old Harvard roommate, other college friends, and family members also pitched in.
To minimize the disruption of his family's life, Nullet left them in Jacksonville, visiting for four weeks between spring and summer terms. When he returned to Cambridge for summer school, Nullet gained a roommate: his son, Joey, spent five weeks with him, attending summer camp, sleeping on an air mattress in his dad's apartment, and enjoying the urban diversity of Cambridge. "He had a good time being exposed to a different environment," says Nullet.
Nullet returned to Jacksonville as soon as he turned in his last paper in mid-August, eager to reconnect with his family and resume his life. Officially, he had to leave his job at the homeless shelter, but the door there is cracked open for him: He may run the Brown Bag Catering Co., a program he wrote a grant for in one of his Harvard classes. Brown Bag Catering, staffed by guests at the shelter, would cater and distribute box lunches to businesses in downtown Jacksonville.
Even if opportunities at the shelter don't pan out, Nullet is optimistic about his job prospects. Although he says he'd like to continue his education, it's his wife's turn to follow her dreams. "When I go back, it's going to be my turn to change the next 20,000 diapers," he says.
Ask Joe Nullet what his Harvard degree means, and he jokes that it means he'll no longer be dragging down the average income of Harvard dropouts, a figure propped up by poster boys Bill Gates and Matt Damon.
But Nullet also expresses his emotional satisfaction, which means even more to him than the career advancement that comes with a degree. "You hear about 20,000 kids trying to get into Harvard every year, and you know that you were already there and you didn't finish. That's been a troubling thing for me, that I sort of blew my opportunity," he says. Returning to Harvard "emotionally and spiritually helped me deal with that mistake in my life and sort of bring that full circle."
In early September, Nullet reported that he had accepted a position as the executive director of The Family Nurturing Center of Florida, a safe-house for children in foster care. At three locations, the FNC provides a comfortable environment for supervised visits between children and their birth parents during the court process of custody. "I am excited about the prospect of overseeing the expansion of this program and will rely heavily on my recent classwork to guide me," Nullet wrote.
Contact Beth Potier at beth_potier@harvard.edu