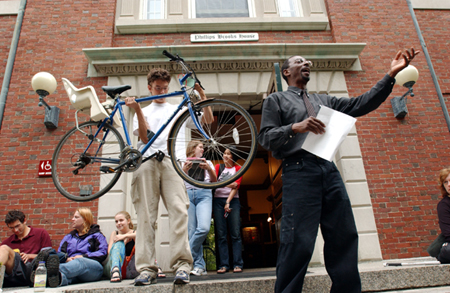 Phillips Brooks House Association (PBHA) made crime pay last week, as its annual bike auction turned 30 stolen and abandoned bikes into much-needed cash for its dozens of charity and human service programs.
The auction, held on the steps of the Phillips Brooks House on Thursday, Sept. 20, before a crowd of about 75 bargain-hunting students, raised $3,135. Organizers said they had fewer bikes to auction off this year because the Cambridge Police Department did not donate bikes as it has in the past.
The money is used to help finance PBHA's 82 social service programs, which annually involve about 2,000 Harvard undergraduates in activities as diverse as teaching English to elderly Chinese-Americans to youth recreation programs. The organization reaches an estimated 10,000 area residents through its varied activities.
The bikes themselves ranged from used but in good shape to just plain beat up. They included all kinds, from modern mountain bikes to older 10-speeds to a pink and purple Huffy girls' bike. The bikes – which had been stolen or abandoned – were provided by the Harvard University Police Department (HUPD) and Soldiers Field Park.
HUPD Detective Dan Twomey said when a bike is recovered on campus, police first try to get it back to the owner, checking for reports of stolen bikes or identifying marks. If that doesn't prove fruitful, the bikes are kept for a year and then disposed of either by returning the bike to the person who found it or giving it away.
"I have to get rid of the property in some way. The best way to do that is to give it to a charity," Twomey said. "Phillips Brooks House does good work. It is kind of a natural for me to keep them in mind."
The bikes had starting bids that ranged from $10 to $60, but bidding on the first bike set the stage for the afternoon.
PBHA Director of Programs Robert Bridgeman acted as the auctioneer, mixing in bits of humor as he urged the bids higher. The first bike, identified on the information sheet as an AFS "Barracuda," quickly jumped from the $50 opening price to $95, $145, $155 – "I gotta have $160" – to "Sold at $165!"
"They're going for a lot more than we thought," said Michelle Lee, chair of the PBHA's Student Centennial Campaign. "We thought they'd go for $80 or $90, so we're really happy about it."
One shopper looking over bikes was Yuri Vedenyapin, a sophomore from Moscow in his first year at Harvard. Vedenyapin said he was looking for a bargain bike just to get him across campus.
"I think it's nicer than riding in the shuttle," Vedenyapin said.
The higher selling price disappointed some students, who were hoping for a really, really good bargain. One student, looking over a flat-tired mountain bike, flipped it upside down, setting it on its handlebars and seat. He cranked the pedals by hand, examining the rear wheel for a wobble. "Prices are going a bit high; I'll have to revise my definition of quality," he said.
Still, the bikes sold.
"I've been waiting a while to get a bike," said Kristel Leow, a sophomore who said a roommate tipped her off to the PBHA sale. Leow said she was very happy with the slightly used mountain bike she bought for $155 – even though she'd hoped to spend less than $100. "I'm just going to use it to go to and from classes," she said.
Though the sale raised several thousand dollars, the auction serves more than just a fundraising purpose, according to Kate Johnsen, a senior and PBHA's events coordinator.
"This is definitely helpful [financially]," Johnsen said. "It's also a way to get people over here to Brooks House. There's a lot of freshmen buying bikes."