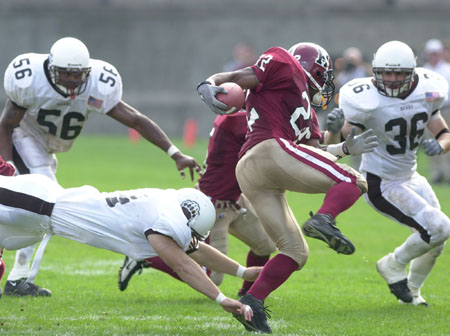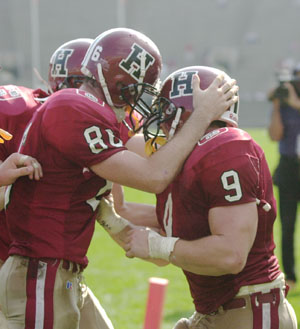 Collegiate players across the land were pretty wound-up by the time Saturday, Sept. 21 rolled around. This past Saturday afternoon at Harvard Stadium, 5th year senior Josh Staph showed a crowd of 8,415 that he was wound-up just a little bit tighter than most.
The recent tailback convert, who was originally slated to command the starting fullback role, rushed for 152 yards on 28 carries, scoring three times in the 27-20 Crimson victory over the Brown Bears. This from a player who touched the ball a total of 14 times just a season ago.
Following a 33-yard drive, with less than five minutes remaining in the first quarter, Staph put Harvard up in lights first with a 1-yard touchdown run. Not three minutes later, Brown responded with a 2-yard scramble into the end zone by tailback Joe Rackley.
After Brown built a 17-7 buffer in the third period, Staph snapped back into action, scoring on two campaigns of 3 and 10 yards, respectively, with workhorse efficiency – good for a 20-17 Harvard lead.
Brown replied with a 21-yard field goal courtesy of Sean Jensen. The 20-20 standstill was to be short-lived, however.
Again, sparkplug Staph ignited the offense with a series of nice runs – advancing 39 yards on three carries. Staph caught a breather as quarterback Neil Rose '02 (completing 19 of 25 passes for 222 yards on the day) and receiver Carl Morris '03 (eight receptions for 101 yards) went to work, connecting on two passes and a subsequent Crimson touchdown. Score: Harvard 27, Brown 20.
With 2 minutes remaining, Harvard's defense answered the call. A pair of sacks by Michael Armstrong '04 and an interception by Andy Fried '02 sealed the Crimson victory.
For the Harvard football team, and Staph in particular, opportunity didn't just knock last Saturday, it banged.
Harvard plays host to the Leopards of Lafayette College (0-2) on Saturday, Sept. 29, at 1 p.m.