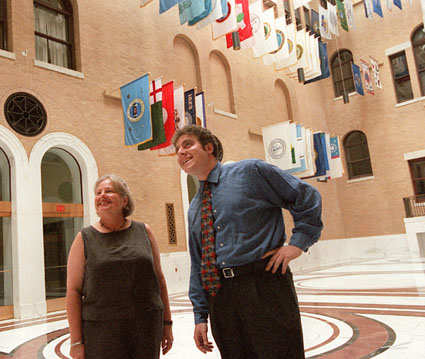 Merrell Aspin is working as an intern with the Massachusetts Division of Medical Assistance in the Managed Care Program, where she is researching contracting issues for the division's upcoming contracting process. She is a student at the School of Public Health (SPH).
Paul Carney is working for the Massachusetts Housing Finance Agency, where he underwrites loans for the Massachusetts Affordable Housing Trust Fund. Carney is a student at the Kennedy School of Government (KSG).
Luz Cázares is interning at the city of Boston's Budget Office. She is a candidate for the master of public policy degree at KSG.
Iliana Georgieva is researching and providing recommendations on public policies that will enhance Brookline's efforts in supporting small businesses in its commercial areas for the town of Brookline Economic Development Office.
Rachel P. Klein is working at Boston Public Schools on projects related to teacher recruitment and training. Klein is studying at KSG.
Josh Rubin is working for state Rep. Kay Khan. He is a student in the Master of Public Policy program at KSG.
Laura Siegel is interning with Rebecca Barnes, chief planner of the Boston Redevelopment Authority. Siegel is studying for her master in public policy degree at KSG.
Derek Sousa is working for the Department of Administration and Finance for the commonwealth of Massachusetts. He is a candidate for the master of public administration degree from Suffolk University.
Elizabeth Spinney is working for Boston City Councilor Paul Scapicchio. She is a student in the Master of Public Policy program at KSG.
Hallie Torrell is interning at the Boston Public Health Commission. She is a student in the Master of Public Policy program at KSG and is a Wilmers State and Local Government Fellow.
Improving the quality of mental health services has been an abiding concern of Kennedy School student Joshua Rubin.
"I guess you could say it's my policy area of obsession," he said.
This summer he has been able to indulge that obsession, gain valuable experience, and quite probably have a positive impact on mental health services in Massachusetts as well, thanks to a new program at Harvard called the Rappaport Public Service Internship.
Rubin, a graduate student in the Kennedy School's Master of Public Policy (M.P.P.) program, is working as an aide to Newton State Rep. Kay Khan. Khan, a former psychiatric nurse, is the founder of the State Legislative Mental Health Caucus, a group of 40 state legislators who have an interest in mental health issues.
Because the caucus has no official status and thus no budget, Khan applied to the Rappaport Institute for an intern. Rubin, who worked for the Coalition of Voluntary Mental Health Agencies in New York City before coming to the Kennedy School, proved the perfect match.
As a task force of one, Rubin has had a busy and productive summer. He has been working to raise the visibility of the caucus, writing letters and op-ed pieces for local newspapers, and tracking the progress of about 140 bills that affect mental health in the commonwealth. He has also been working with the approximately 125 mental health agencies in Massachusetts on children's issues, eating disorders, mental health care in prisons, and many other concerns.
"It's just been a perfect spot for me," Rubin said. "It's helped me to realize that state and local government is the scale on which I want to be working. It's a very satisfying place in terms of connecting with the people whose lives are impacted by these issues."
The Rappaport Institute for Greater Boston, which administers the internship program, was founded in 2000 with a $3.5 million grant from the Jerome Lyle Rappaport Charitable Foundation. Housed at the Kennedy School, the institute coordinates an array of academic and scholarly functions with the aim of improving governance of the Greater Boston area.
Rappaport, a Boston lawyer, real estate developer, and civic leader, has made significant charitable contributions to many educational, health care, and cultural projects and activities in the Greater Boston area, and has played an active role in the work of the institute.
In fact, the idea for the institute originated with Rappaport, said Charles Euchner, the institute's executive director.
Rappaport's first job after earning a degree from Harvard Law School in 1949 was working as campaign manager for John B. Hynes, who successfully challenged James Michael Curley, the mayor of Boston since 1918.
"The experience made him realize that the opportunity to get involved at a meaningful level in state and local politics is there for whoever wants to take it," Euchner said.
Rappaport wanted to create a program that would enable talented young people with an interest in public service to find internships in areas that interested them and in which they could have a significant impact.
Graduate-level students at Harvard, Boston University, and Suffolk University in programs with public policy implications for the Greater Boston Metropolitan area or the commonwealth of Massachusetts are eligible for the internships. Currently, 10 students are working on internships through the program.
Luz Cázares, another Kennedy School M.P.P. student, has been interning in the city of Boston's Budget Office. Like Rubin, she finds it the ideal spot given her experience and goals. Before coming to the Kennedy School, Cázares worked as a principal financial analyst for the Chicago Public Schools and program coordinator for the city of Chicago's Empowerment Zone. After earning her degree, she hopes to become a budget director.
Through her internship she has found the perfect mentor to help her reach her goal. Cázares is working directly with Boston budget director Lisa Signori.
"It's great as an intern to have direct contact with her," Cázares said.
Cázares has been working on issues related to Medicaid reimbursements for the Boston school system, tasks that she finds both interesting and challenging. She has also been working on a project to identify new potential revenue sources for the city.
In addition to the public service internships, the Rappaport Institute offers five public service fellowships. Each year, five recent graduates of graduate and professional schools throughout the Greater Boston area serve in one-year positions with the office of the governor, the attorney general, the senate president, the house speaker, the mayor of Boston, the Boston City Council president, and the mayor of Cambridge. These offices will pay the standard starting salary, which will be supplemented by a $15,000 stipend from the Rappaport Institute to pay off student loans or supplement the salary.
"What we've learned is that there's no shortage of people who are excited about doing public sector work," Euchner said. "But state and local government can be somewhat opaque. People can have a hard time learning about opportunities because it's not always obvious where to go. We're trying to lower the costs of learning about local systems and becoming part of the network. In a sense, we're matchmakers."