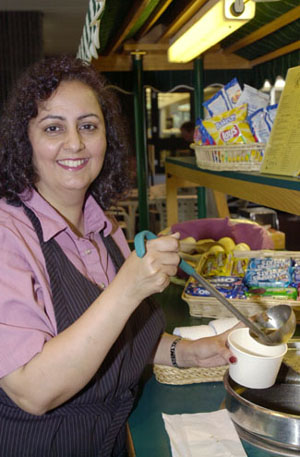 Photo by Alejandra Bustamante
"Nafha – it's you!" exclaims Ali Bustamante, a Cambridge Rindge and Latin High School senior who is also, this summer, a photography intern at the News Office.
"Ali," Nafha laughs back, "I didn't know the photographer would be my daughter's best friend!" The two embrace easily, delighted that fate has brought them together at the Harvard Smithsonian Observatory for a photo session – not as strangers but as lifelong acquaintances.
Nafha Salman operates the food cart at the observatory, serving coffee, lunch, and snacks to astronomers and other stargazers in an informal setting. Regulars greet Nafha warmly and can expect her to know exactly what they want; after all, she's been here for seven years.
"Some people say to me 'We don't just get coffee here; we get coffee with a smile,'"Nafha offers. "It's true people do comment about my smile. In fact, people have come to expect it, so when I'm just being quiet they ask me if something's wrong."
"I love my job, the people here," adds Nafha. "In all the years I've been here, I can't think of a single incident where I got upset. The people are what I like best about this place. I wouldn't want a job where I'm by myself."
Nafha came to the United States with her husband and three daughters in 1990. Her siblings and parents had already preceded her here from their native Pakistan. There, Nafha was a teacher of second and third grade; her husband owned a hotel and also worked for an advertising company. In Pakistan, being well-educated and holding a teaching job, Nafha had respect. But if she were operating a food cart back there, she acknowledges, people would look at her differently.
"But not here," she says happily. "Here in America, you get respect regardless of your job." Nafha's husband works for dining services in the Science Center, underscoring the career changes that immigrants must sometimes accept when relocating, and challenging our assumptions about the educational level of people in service positions.
Recently, Nafha took a vacation day to formally become a U.S. citizen. The event came 10 years to the day after her father's death. For Nafha, that coincidence left her with mixed emotions, underscoring both her ties to the past and her commitment to a new life. She is a product of two countries, two cultures, and her life is a melding of both. Yet she has no regrets, is happy doing what she does, and warms the observatory folks around her, all with a cup of coffee and a smile.
We serve the public interest! Interesting people, interesting jobs, interesting hobbies – we want them in the Big Picture. If you have an idea for the Big Picture, give us a buzz at big_picture@harvard.edu