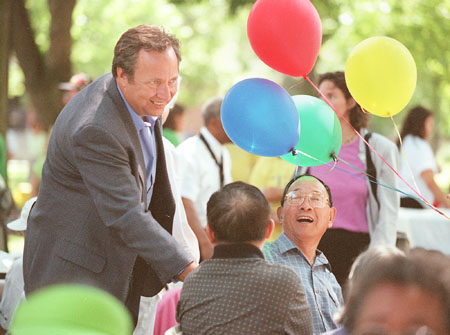 Blue skies shone and balloons bobbed over Tercentenary Theatre on July 31, as Harvard University and the city of Cambridge welcomed nearly 1,000 Cambridge senior citizens to the 26th annual Harvard Yard Picnic.
"The mayor has informed me that you are to remember on Election Day that he is responsible for the good weather," quipped Harvard President Lawrence H. Summers, joining Cambridge Mayor Anthony Galluccio in welcoming the seniors.
This year's picnic celebrated the arts in Cambridge, and local arts organizations surrounded the Yard with information tables as musicians and dancers performed on the steps of Memorial Hall. The Union Orchestra kept toes tapping with classic tunes such as "Roll Out the Barrel," "In the Mood," and "Hello, Dolly!," which Cambridge Rindge and Latin music teacher Jimmy Smith belted out in his best Louis Armstrong imitation. Arbilla Sarazen led the Senior Chorus, urging interested seniors, particularly men, to join the group at its weekly rehearsals at the Cambridge Senior Center. As a quartet of Harvard Ballroom Dancers tangoed, fox-trotted, and cha-cha'd, 64-year-old Paul Brennan, who had taken some spontaneous turns around the dance floor previously, boasted that he "could teach these folks a thing or two."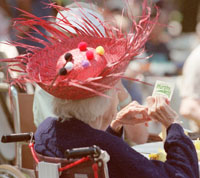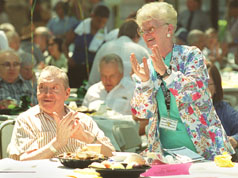 Both sombrero and campaign sticker are apt icons of the annual picnic. Cantabrigians Bob Hutchinson and Eileen Gross applaud a dance number. (Staff photos by Rose Lincoln)
"It's been a privilege to be back here in the great city of Cambridge," Summers told the seniors. Stressing the symbiotic relationship between Harvard and its host city, Summers said that "it's very, very important that we work together to make the common community we share to be as happy, successful, and prosperous as we possibly can. It's in that spirit that I welcome you all to the Harvard campus."
Galluccio presented Summers with a key to the city, then invited the many politicians – past, present, and hopeful – who had been working the crowd to join them onstage for a sing-along. "I don't know if you've ever heard elected officials sing before, but it doesn't always sound like a celebration," the mayor warned.
For the seniors in attendance, however, there was plenty to celebrate. "They treat us so nice," said Mary Welch, 84, tucking into the Chinese stir-fry delivered by one of about 40 teen "waiters" from the Mayor's Summer Youth Program. "We look forward to this all year," the East Cambridge resident added. Tiny James, a youthful 81-year-old woman who flitted from table to table, has attended the picnic every year since its inception. "I make friends, even if I don't know them yet," said the lifelong Cantabrigian.
The picnic ended with a raffle and the distribution of commemorative tote bags, but not before seniors took the stage for some line dancing. As the band struck up "Tea for Two" and "The Hustle," a cluster of picnickers pattered and step-kicked across the stage. A group of teens shadowed them, trying to learn something – even some new dance steps – from their elders.
Contact Beth Potier at beth_potier@harvard.edu.