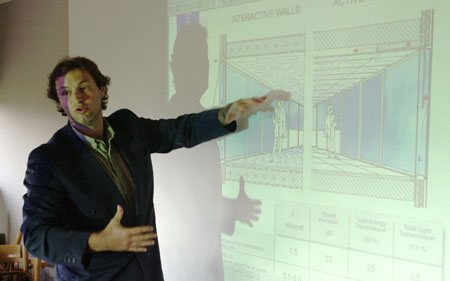 They stand in mammoth clusters along the streets of nearly every major city; they loom like glistening monoliths at the edge of suburban highways; they are omnipresent – the huge glass boxes in which the world's business is transacted.
Ironically, the glass and steel skyscraper, a ubiquitous symbol of modernity, is also one of the 21st century's great dinosaurs. In a world that has become increasingly concerned with the need to conserve energy, the modern office building remains a massive energy consumer. Heating these vast spaces in winter and cooling them in summer creates an enormous drain on our energy reserves.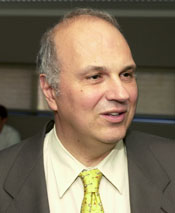 "Everyone talks about the energy consumed by cars, but buildings use at least as much energy as cars," said Spiro Pollalis, professor of design technology and management at the Graduate School of Design and director of the Center for Design Informatics.
In fact, it has been estimated that a third of the world's energy is consumed by buildings, a third by transportation, and a third by industry. These days, with gasoline prices rising and electrical blackouts plaguing California and threatening the rest of the country, conserving energy in all areas seems more and more of a necessity.
Pollalis is one of the founders of BuildingEnvelopes.org, a Web portal based at Harvard and supported by a worldwide consortium of universities, research centers, and industry professionals. This nonprofit research portal (http://www.buildingenvelopes.org) has been created to serve as a resource for state-of-the-art information about innovative building facades and environmental technologies. Through its Web site, the consortium seeks to educate architects, builders, and owners about these cutting-edge systems and technologies so they can be incorporated into building projects at an early stage of design.
"Through the use of advanced technologies and with an integrated approach toward the building envelope and the mechanical and electrical systems, we can significantly reduce energy consumption with the same construction costs," Pollalis said.
As with so many other technological problems, the solutions have existed for years. The challenge has been implementing them. For example, the double-skin facade, a major step toward reducing energy costs, was introduced in the late 1950s, but because few people were worried about energy consumption at that time, the innovation did not catch on.
A building with a compact double-skin facade traps heat between the inner and outer layers of its glass envelope. This relatively simple innovation helps to solve a problem that designers of glass and steel skyscrapers have struggled with for years – how to deal with the greenhouse effect that results when sunlight streams through thousands of square yards of transparent glass.
The double-skin facade encapsulates the greenhouse effect in the cavity between the two glass layers. That trapped heat can then be used to warm the building in winter. In summer, a ventilation system expels the heated air from the cavity, helping to keep the building cool. The double wall also insulates inhabitants from extremes of temperature, resulting in a more comfortable interior.
Many recently constructed buildings in Europe and Asia incorporate double-skin facades – the European Parliament building in Strasbourg, the Potsdamer Platz in Berlin, and the Aurora Place in Sydney being some prominent examples. In America, however, hardly any double-skin buildings exist.
"Few people in the United States consider energy to be a cost, but in Europe, we do," said Massimo Colomban, senior chairman of Permasteelisa Group, an international company with headquarters in Italy that has pioneered the use of advanced building technologies. Permasteelisa is one of the founding partners of BuildingEnvelopes.org.
The Web site, which is open to all, contains a wealth of information, including detailed case studies of recent construction projects, tutorials on building envelope basics, research findings, building regulations, and an interactive design adviser, developed at Massachusetts Institute of Technology, the other founding consortium member, that helps architects and developers make technical decisions about individual projects.
The portal embraces research and new ideas originating from its 12 industrial partners and its eight research institutions, as well as any party that wants to submit information, subject to the approval of the consortium's scientific committee.
"It is an example of Harvard being a facilitator of knowledge exchange rather than the sole author – a true spirit of the Internet era," Pollalis says.
The consortium members hold a workshop twice per year, one at Harvard and the other at the headquarters of one of the member companies. The workshops provide direction for the development of the portal and allow participants to exchange information on projects, research, and industry developments.
"I'm sure that BuildingEnvelopes.org can be the No. 1 knowledge portal for educating students and professionals around the world in the creation of a more sustainable architecture that can take care of people and take care of the environment," Colomban said.
So fervently has Permasteelisa embraced the concept of sharing innovative technology with the world that it has given up all notion of guarding its trade secrets from competitors.
"We have no secrets," Colomban said. "In the new era, as soon as it's been done, it's no longer a secret. You might as well give it away right away."
With the Web site growing and more industrial and academic partners coming on board, a sense of enthusiasm and expectation has taken hold, and with it a conviction that the old ways of designing and building will soon give way to the new. For example, in America, the University of Pennsylvania already has one building under construction that utilizes a double-skin facade, and The New York Times is considering using advanced facade systems in its future headquarters.
"I'm sure that three or four years from now prudent owners will be investing in energy-saving technologies," Pollalis said. "Time is on our side."