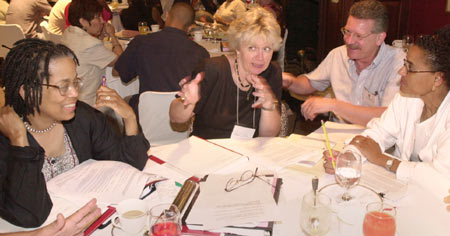 With barely a week of summer vacation behind them, about 40 Boston Public School teachers and administrators returned to work, rolling up their sleeves June 28 and 29 at the Boston-Harvard Leadership Development Initiative summer institute at the Faculty Club.
The Leadership Development Initiative (LDI), funded by a grant from the FleetBoston Financial Foundation, is a program of the Graduate School of Education's Office of School Partnerships. The initiative works to cultivate leadership and support change at 12 Boston public elementary, middle, and high schools. In addition to this summer institute and year-round professional development seminars and lectures, each of the 12 schools is assigned a consultant – a doctoral student from the GSE – to provide technical assistance to help them attain their goals.
The LDI began in 1997, about one year after Thomas Payzant became superintendent of Boston schools and brought with him an aggressive agenda for reform. "We saw an opportunity to contribute to Boston's efforts to raise achievement by working with their teachers and administrators in a leadership capacity," says Peggy Kemp, director of the LDI and the GSE's Office of School Partnerships.
Benefits of the Leadership Development Initiative go two ways, says Kemp. The schools "are developing a network of resources. They're able to consult with Harvard faculty and use Harvard doctoral students as a sounding board," she says. The doctoral students "get an opportunity to test and practice what they're learning. Many of them bring back their experiences to shape discussion in their classes and to use as a context for their written assignments."
At this summer's institute, called "Reflections for Action: Leadership as Agency," participants pored over an alphabet soup of Boston Public School (BPS) mandates for school change and reform. School teams (up to eight administrators and teachers from each school) devoted several hours each of the two afternoons to finalizing their annual whole-school improvement plan, a BPS systemwide document due to the superintendent's office at the end of the day Friday, June 29. A lecture by Susan Moore Johnson, Carl H. Pforzheimer Jr. Professor of Teaching and Learning, prepared participants for this work with a review of organizational change from four perspectives: structural, human resource, political, and symbolic.
Friday morning's lecture was on an oft-requested topic, says Kemp. Michael Thompson, a child and family psychologist and co-author of the book "Raising Cain: Protecting the Emotional Life of Boys," discussed the emotional development of boys and the challenges they face in school settings. "There is a more difficult fit between boys and school, but there are things that are working," he says. Devoting nearly an hour to answering questions, Thompson gave the educators tools and ideas to manage, motivate, and engage boys in school.
The LDI boasts leadership successes both personal and institutional. Since the program began, 16 participants have been promoted to leadership positions either in their schools or across the district. Maud Wright, principal at Dorchester's Pauline A. Shaw Elementary School, was a teacher at the Quincy School in Chinatown when she began with the LDI four years ago. She was so impressed by the program – which she credits with some of her personal success – that she petitioned to have the Shaw School participate. "It has been fabulous," says Wright, whose team includes a mix of administrators and teachers from her school. "To describe it would take several weeks to do it justice."
At the Snowden International High School in Boston's Back Bay, flagging test scores and a yawning achievement gap between races set a clear agenda for change. "We needed someone to help us deal with these issues," says Snowden principal Gloria Coulter. The Snowden School got involved with the LDI, Coulter says, because "we could use the LDI expertise to bounce off some ideas. And it would be tailored to us."
Such custom tailoring brought Ethan Cancell, a GSE doctoral student, to the Snowden as the school's LDI consultant. Cancell, who ran a test-preparation service before entering graduate school, has steered the Snowden toward impressive change in test scores. Since 1998, the school has outperformed all Boston district high schools in reducing the failure rate on the MCAS exams; the school also shows improved achievement across all races.
The numbers, Cancell and Coulter agree, tell only part of the story. "I can help get a school's test scores up, but that's not what we're trying to do," Cancell says. "We're trying to change the way instruction is delivered. [The scores have] been a happy by-product." That said, such quantitative improvement of test scores gained Cancell credibility in the schools and gave the Snowden a boost of self-esteem and respect from BPS leaders. "It's everything that the district wants, and it's everything that people who criticize tests want," says Cancell.
Even when it's effective, school change is an arduous and time-consuming task. "The LDI has been extremely helpful," says Coulter. "It felt supportive of the school rather than punitive. That's important, when you're going through change."