At the Radcliffe Association's annual luncheon on Friday, June 8, Madeleine Albright provided the star-power, but she shared the spotlight with women's education, women's advancement, and the new role of the Radcliffe Institute for Advanced Study.
One tent could not accommodate the more than 1,000 participants, mostly Radcliffe alumnae, who spilled into satellite tents and hovered around Radcliffe Yard to hear Radcliffe Medalist Albright speak about the changing role of women worldwide.
Capping three days of Radcliffe reunion events, the luncheon was a forward-looking, optimistic pep rally for the Radcliffe Institute of Advanced Study. "This is a new day and we have many new opportunities," said A'Lelia Bundles '74, president of the Radcliffe Association.
Before turning the microphone over to Radcliffe Institute Dean Drew Gilpin Faust for a glimpse of the future, Bundles presented a surprise Radcliffe Medal to Mary Maples Dunn, who served as acting dean of Radcliffe Institute from the October 1999 merger of Harvard and Radcliffe until Faust's appointment. Expressing her gratitude for the honor, a surprised Dunn said, "I'm more grateful for the opportunity to build the bridges between Radcliffe and Harvard."
As Faust took the podium without using the step that helped several other speakers reach the microphone, she joked that "I'm not of equal standing – I'm the tallest Harvard dean." Faust assured alumnae that in addition to "advancing knowledge at its outermost limits," the Radcliffe Institute would strengthen the position of women at Harvard.
"Radcliffe now has a seat at the Harvard table," she said. "Our job now is to transform the menu and the guest list."
First on that guest list was former U.S. Secretary of State Madeleine K. Albright, who was the highest-ranking woman in U.S. government history. In a speech both funny and inspiring, she explored women's roles and rights, from Wellesley College, where she was an undergraduate, to Beijing, Poland, and Africa.
Saying that she is "especially intrigued by Radcliffe's devotion to the concept of lifetime learning," Albright opened with self-effacing remarks about her transition from secretary to citizen: learning to drive her own car, burning her own toast, and traveling, not in a private jet but on commercial flights.
She spoke of her days at Wellesley, when clicking sounds in the classroom were knitting needles, not laptops, and of her early efforts to balance her career in journalism with the career of "good wife" that was expected of her. She never imagined that she might become secretary of state, not because she was humble but because "I had never seen a secretary of state in a skirt."
As secretary of state, she vowed to use her position to "bring the efforts to lift the lives of women and girls into the mainstream of American foreign policy," she said. She spoke of her support of the diplomatic initiative to combat trafficking in human beings. "This is one of the world's fastest-growing criminal enterprises," she said. "It exploits the desperation of more than a million women every year who think they're applying for jobs as au pairs, waitresses, or sales clerks but end up virtual slaves of thugs or pimps."
Last year, Albright and the "fearsome fourteen" of the world's female foreign ministers called for efforts to halt the spread of HIV and AIDS. "Despite the efforts of many, we are not winning the war against this disease," she said. Albright told of an AIDS-infected woman in a clinic in Africa asking her who would care for her children after she died. "At the time, I was supposed to be the world's most powerful woman," said Albright. "But I lacked even the power of speech, for I did not know what I could say.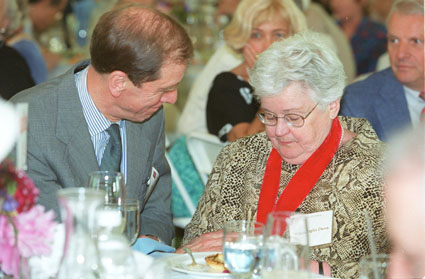 "The lesson in all this is that the right response to wrong is not to throw up our hands, but rather to roll up our sleeves; not to complain, but to act," she said. "Nothing could be more consistent with the values promoted here at Radcliffe."
Albright closed by encouraging alumnae and the Radcliffe Association to work to ensure the protected rights and respected individuality of every girl and woman. "That," she said, "will create a better world for girls and boys, women and men."
Also on Friday, the Radcliffe Association honored three with Alumnae Recognition Awards: legal scholar and Harvard Law School Professor Lani Guinier '71, author Esmeralda Santiago '76, and scientist and educator Cecily Cannan Selby '46. In addition, political scientist Mary Fainsod Katzenstein '66 B (Bunting) '89 and former Vermont governor Madeleine Kunin B'92 received Graduate Society Medals, given to alumnae of Harvard and Radcliffe graduate schools and Radcliffe's Bunting Program.