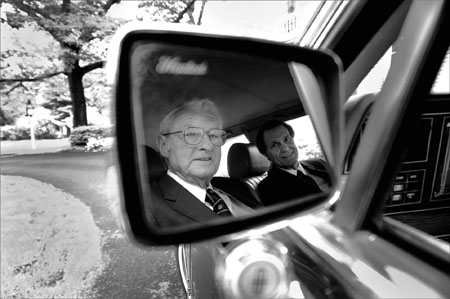 When Timmy O'Sullivan started working at Harvard, things were different. "I started on June 30, 1959," says O'Sullivan, his ruddy complexion and lilting accent confirming the national origin his name suggests. "I started as a dining hall busboy. But in those days it was very different. In the summer, I switched outside and worked on the grounds." After a number of years of bussing and groundskeeping, O'Sullivan put in for a transfer to the Athletics Department and spent the next 12 years at his first driving job – at the wheel of the ice rink's Zamboni.
Eventually the drawbacks of the job outweighed its pleasures, mostly because of the location: "It was so cold that the old arthritis started to get to me, and I asked for a transfer." And with that, the former busboy became the personal driver of the president. "I started with Derek Bok in '82, and drove him for eight years, and then Rudenstine and I have been together for 10. I've had 18 good years of driving presidents."
Asked about the good and bad of those years, O'Sullivan is quick and clear. "Good? They [the Rudenstines] treat me like one of them, their own, over there at Elmwood [the president's residence]. I couldn't ask for any more than that." Being a part of history has its appeal, too, when you are the president's driver. "I met everybody and anybody you know, and was introduced to every one of them," says O'Sullivan about the panoply of dignitaries he's given lifts to.
At the negative end is Logan Airport. "Logan is the hardest thing about the job," says O'Sullivan. "One time I was there, waiting, and I could see the Rudenstines, they were walking towards me; but the Staties (the State Police), they made me move along. Next thing you know President Rudenstine is on the phone, and I tell him, 'You see those blue lights out there in front of you,' and he says 'Yes,' and I tell him, 'well that's why I'm not there, but I'll be coming around again.' That's the only ticket I ever got, at the airport."
Note new e-mail address: We serve the public interest! Interesting people, interesting jobs, interesting hobbies – we want them in the Big Picture. If you have an idea for the Big Picture, give us a buzz at our new e-mail address: big_picture@harvard.edu