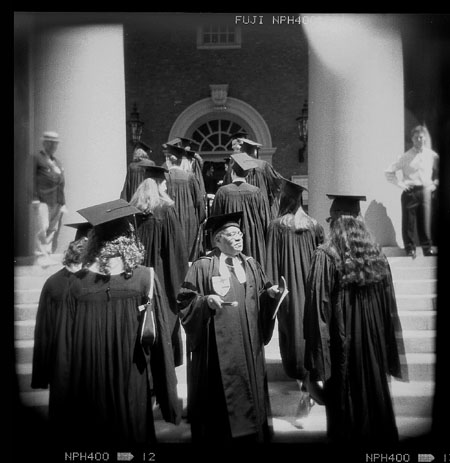 Harvard President Neil L. Rudenstine bid farewell to the Class of 2001 Tuesday even as the students bid goodbye to him as the University's outgoing 26th president during the traditional pre-Commencement Baccalaureate Service.
Rudenstine and the Rev. Professor Peter J. Gomes, the Plummer Professor of Christian Morals and Pusey Minister in Memorial Church, led the annual service, which consists of prayers, hymns and a farewell address by the president.
Rudenstine's sometimes humorous, sometimes serious half-hour speech advised the graduates to strive to make a mark that will endure after they've gone. And while they're at that profound mission, he said, "do try to be interesting."
"Create something in your own work, in your relationships, in your daily lives. Try to leave something that will be lasting," Rudenstine said. "To do this you will need the help and affection of others, just as they will need yours. … Be generous and loving to yourself and others. You will do well. You have already done so well."
The Baccalaureate Service is almost as old as Harvard itself and was part of Harvard's first Commencement in 1642. It gives Harvard officials and clergy a chance to address graduating seniors alone before Commencement Day.
The class, clad in black cap and gown, began lining up in the Old Yard about 15 minutes before the 2 p.m. service. As the bells from Memorial Church pealed, Gomes led the procession, which stretched from the Yard's northeast corner between Holworthy and Thayer to Massachusetts Hall. They walked the length of University Hall, tipping their hats to John Harvard, into Tercentenary Theatre, and up the steps of the Memorial Church.
Gomes began the service with a salutation and a description of the Baccalaureate Service, saying it "celebrates the beginning of the end of the beginning of your formal academic career."
Graduates filled the church, sitting in the aisles in the balcony. Some said they saw a side of Rudenstine that they hadn't seen at more formal occasions.
"The speech by the president was really humorous. It really made him more personable," said Johann Schleier-Smith, who is heading to Stanford for a doctoral program in physics. "I thought this was really quite refreshing."
Despite the sometimes light tone of the speech, many graduates had mixed emotions that their time at Harvard was nearing an end.
"It's sad. It's hard to leave everyone. [But] it's nice to get everyone together one last time," said Christen Ebens, who is going to work at the National Institutes of Health for a year before applying to medical school.
During his speech, Rudenstine told the graduates that there will be times in their lives when they don't know what the next step is, when they don't know where to go or what to do. Those are the struggles and the journeys that make up life and which are celebrated in great works of literature, he said.
In a speech honoring Rudenstine, who will leave Harvard on June 30, outgoing senior Amma Y. Ghartey-Tagoe said, though Rudenstine may not remember the freshman formal or the Last Chance Dance, he is a member of their Class of 2001 nonetheless.
Ghartey-Tagoe said the description of Rudenstine she likes best is by John Cowles Professor of Sociology Orlando Patterson, who described the down-to-earth president as an "ordinary guy and an extraordinary president."
Ghartey-Tagoe said Harvard seniors and Rudenstine are probably sharing the same mixed emotions right now about leaving a place they've come to consider home and about the excitement and uncertainty of future challenges.
"But we all know that, indeed, it is time to go," Ghartey-Tagoe said. "May you be blessed in all that you do. May you continue to be that extraordinary president and ordinary guy no matter where you go."