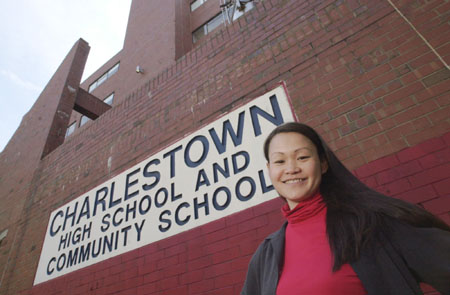 For Kathleen Dawson, spending a year at the Harvard Graduate School of Education was as much catharsis as it was education, the final marker of a 26-year journey in search of family, purpose, and excellence.
Dawson's commencement not only fulfills a lifelong dream to attend Harvard, it comes after a long string of personal trials, including adoption at age 7, life as an emancipated minor, a struggle for education, and, last summer, the loss of her birth mother to cancer just weeks after re-establishing contact.
"I'm finishing a chapter," Dawson said. "I feel free now to start anew. I can start a fresh new life after I leave here."
Dawson's immediate future lies in Boston. Though her master's degree in school leadership qualifies her for a principal's job, Dawson plans to return to a classroom at Charlestown High School, where she taught for two years before coming to Harvard. There, she'll take over as a unit leader, overseeing a team of teachers who educate about 130 ninth- or 10th-graders and teaching one or two classes herself.
"At this point I want to teach. I love teaching. I love that one-to-one contact with kids," Dawson said.
Charlestown High School Headmaster Michael Fung said he thinks Dawson will be heading her own school within a few years. Dawson has the toughness to take on difficult assignments and, when inevitable setbacks occur, to learn from her mistakes, he said.
"She is a very good teacher, a very fast learner," Fung said. "She has that toughness that you don't find in a lot of people."
Dawson's drive for excellence carried over to Harvard, where she ran for and won the presidency of the Graduate School of Education's Student Government Association.
"It allowed me the opportunity to give back to the school as much as I want to take away from it," Dawson said.
Long journey
Dawson's journey began 26 years ago in Seoul, South Korea, when she was 5 years old and her father was killed in an accident. Though her mother struggled to keep her five children together, two years later she gave Dawson and her 10-year-old sister, Kara, up for adoption.
They were raised by two women, Donna Dawson and Esther Pietracci, in Duluth, Minn., in a family of five adopted children. Her adoptive parents instilled in Dawson a strong work ethic and a drive for excellence. They also gave Dawson a belief in the importance of education and a view of Harvard as a symbol of excellence in education.
Dawson set her sights on Harvard early, announcing in a speech after winning her eighth-grade class presidency: "Harvard here I come!"
But her road here was a winding one. Dawson never really felt at home in her new family and admits she was "probably the most challenging" of the group. Though she has since reconciled with Dawson and Pietracci, she left home at 15. Instead of wandering the streets, however, Dawson said she went to a Social Services office in search of help, joking that her drive for perfection even made her run away from home properly.
She spent the next two years bouncing from foster home to foster home until, at age 17, she asked the courts to declare her an emancipated minor. The courts agreed and Dawson began working nights and weekends to support a tiny apartment, going to school during the day until she graduated.
Dawson got her teaching certification from the University of Wisconsin, Superior. She taught elementary school in Duluth, and then – after moving east with her husband, James Fields – in Wellesley, Mass.
Three years ago, Dawson jumped to Charlestown High, where she taught for two years before coming to Harvard. On a whim, she applied to the Graduate School of Education and was accepted.
"So many times, I thought it would never happen," Dawson said.
Last summer, before beginning school at Harvard, Dawson finally found her family in Korea, but discovered her mother was terminally ill with cancer. Not wasting any time, Dawson flew out with her husband, her biological sister, Kara, and Kara's two children. Two weeks after they returned home, her mother died, and Dawson was back on a plane for the funeral.
"It was like I lost her and I found her and I lost her again," Dawson said. "I flew back for the funeral. It was a way for me to finally say goodbye."
Despite her recent loss, Dawson said she feels more whole than she ever has. She is leaving Harvard ready to go out and attack the problems she sees in American education, which she thinks often discourages children from learning.
"I look forward to starting a new life more healed than I've ever been, happier than I've ever been," Dawson said. "All the pain, all the hard work has been worthwhile."