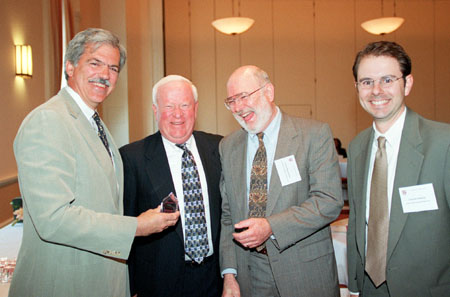 The University has announced this year's Harvard Housing Innovations Program (HHIP) grant winners. The awards ceremony took place on Friday, June 8, at the Business School. These awards are the second of two rounds of HHIP grants established as part of Harvard's 20/20/2000 affordable housing initiatives.
At the June 8 ceremony, leaders of housing nonprofits, community development corporations (CDCs), Harvard faculty, and local elected officials joined Harvard officials in announcing this year's 19 grant recipients.
In this final round, the 19 awards, totaling $310,000 will be made to nonprofit housing producers and CDCs in Boston, Cambridge, and Somerville. Grant winners include organizations in the Boston neighborhoods of Allston-Brighton, Chinatown, Jamaica Plain, Roxbury, Dorchester, East Boston, Mission Hill, the South End, and the Fenway.
The 20/20/2000 initiative was established in the spring of 2000 to preserve and increase affordable housing in the Cambridge and Boston area. The initiative has three components: the grant program, which will provide close to $1 million in grants to local housing nonprofits and CDCs once this second and final round of awards is given out; a $20 million low-interest loan, distributed equally between Cambridge and Boston, providing the kind of tool that housing nonprofits need to assemble affordable and complex projects; and a Housing Advisory Committee, bringing together Harvard faculty from around the University to act as advisers to the initiative and as a resource to the community.
The first round of grants was awarded in June 2000 to 13 housing nonprofits and CDCs and totaled $605,000.
Some of this year's innovative proposals include strategies to:
Coordinate new housing policies, resources, and opportunities for homeless young adults.
Create sustainable funding for affordable housing for low-income women.
Develop a model to provide regional homeownership opportunities using the Section 8 homeownership program.In addition to the awarding of this year's grants, Friday's breakfast included presentations by two of last year's grantees. Carl Koechlin, executive director of the Fenway CDC; and Daniel Wuenschel, director of the Cambridge Affordable Housing Corporation, spoke.

This year's winners include:

Allston Brighton CDC (ABCDC): HHIP will fund a comprehensive analysis of non-residential properties in the Allston-Brighton area to help ABCDC identify nontraditional opportunities to develop affordable housing. ABCDC's involvement in cataloging property in Allston-Brighton will help them to build relationships with property owners for future development projects.

Asian CDC (ACDC): ACDC will focus efforts on affordable housing production in the South Cove area by creating partnerships with South End nonprofits and CDCs to expand development opportunities for both communities. The grant will allow them to engage in community outreach and land assessment of the area. ACDC will develop a detailed plan for affordable housing development of the South Cove area.

Cambridge Affordable Housing Corp (CAHC): CAHC will study of a Section 8 homeownership program for the city of Cambridge. CAHC will develop policies and procedures to use new Section 8 homeownership regulations to increase homeownership opportunities for low- and moderate-income Cambridge residents. The model has the potential for strong impact in Cambridge and replicability in other communities.

Casa Esperanza: HHIP funding will permit Casa Esperanza to implement its new strategic and capital development plans through community outreach, partnership development, and a capital fundraising campaign. The HHIP funding will help Casa Esperanza to promote and develop its successful model of culturally appropriate sober housing.

Citizens' Housing and Planning Association (CHAPA): The grant will help CHAPA link affordable housing with "smart growth" in the Greater Boston area. Their proposal builds on a Harvard-funded "Metropolitics" study of patterns of social separation and sprawl. CHAPA will introduce housing into the smart growth agenda by forming alliances with environmental, business, and municipal leaders and by demonstrating the efficacy of smart growth housing plans in three communities.

Codman Square NDC (CSNDC): The HHIP grant will provide funds for the CSCDC to develop a Real Estate Development Policies and Procedures Manual and to complete the application process to be certified as a Community Development Finance Institution (CDFI). If chosen as a CDFI intermediary, the CSNDC will increase its ability to make homeownership loans to low- and moderate-income residents. NDC stands for neighborhood development corporation.

Fenway CDC (FCDC): The grant will allow the FCDC to develop a program of outreach to Fenway property owners to assist them to develop and preserve affordable housing. FCDC will work with owners of subsidized property with expiring-use restrictions; with owners who must comply with city requirements for affordable housing production; and with owners of substandard properties needing upgrades for code compliance.

The proposal moves Fenway from its traditional developer role to an expanded presence as a facilitator and protector of affordable housing in the Fenway neighborhood.

Friends of Boston's Homeless (FBH): The FBH will develop a two-phase Affordable Housing Strategic Plan. The plan will identify how the FBH can increase the amount of permanent housing for homeless persons moving through the care continuum by assessing need, targeting efforts, creating new partnerships, and building capacity. Phase Two will include a fundraising plan to implement the Strategic Plan for housing creation.

Jamaica Plain NDC: JPNDC will use grant proceeds to undertake intensive planning, community organizing, and research to plan for new development opportunities in their gentrified housing market. Census 2000 results will be analyzed. The JPNDC will create a development plan and pipeline based on the outreach and research. The plan will build on strong, multicultural partnerships in the neighborhood with potential for strategy replicability in other hot housing markets.

Just-a-Start (JAS): HHIP will fund JAS participation in the planning process for development of remaining parcels in Kendall Square. JAS will press for increasing the amount of housing, particularly affordable housing. JAS will hire a consultant to represent JAS and to work with the CRA and other interest groups to maximize the number of affordable housing units.

Madison Park Development Corporation: The HHIP grant will support a feasibility analysis for the production of artists' live-work space in and around the Dudley business district of Roxbury. The study will complement an area strategy to make Dudley an arts and cultural district as part of an economic development strategy for the area. The HHIP study will be integrated into Main Street's planning for the district and will propose new financing and zoning models to develop affordable artists' housing.

Massachusetts Housing and Shelter Alliance (MHSA): HHIP grant funds will be used to coordinate and monitor new housing policies, resources, and opportunities for homeless young adults. MHSA will develop a strategic plan for meeting young homeless adults' housing needs and will work with nonprofits to carry it out. The HHIP grant will focus MHSA activity on a specific homeless group and concentrate research and policy intervention toward a solution.

NOAH: HHIP funding will increase the capacity of NOAH to take on an expanded lending area and expanded loan activities. NOAH will work with elder homeowners to bring vacant rental units back on line as part of NOAH's vacancy-reduction program. In addition, the NOAH loan program is designed to reduce predatory lending. HHIP participation in the early stage of the loan program allows NOAH to develop the systems and procedures necessary to be in place before fees are generated to sustain the program.

Pine Street Inn: HHIP funding will be used to develop partnerships with traditional developers to increase the production of affordable housing available to homeless persons. The plan would also provide management models to preserve troubled lodging houses. A database of troubled SROs (developed with HHIP funds) will be useful tool to preserve this housing.

Somerville CDC (SCDC): Somerville faces a tough market and a need to educate and involve stakeholders in the housing issue. HHIP will allow SCDC to increase organizing capacity in order to carry out a Comprehensive Affordable Housing Strategy and a public campaign to ensure the implementation of the plan.

Tent City Corp (TCC): HHIP funds will allow TCC to fund board and staff development to position the agency to undertake more affordable-housing production in the South End. The HHIP work plan will build on recent assessment by Management Consulting Services.

Transition House: HHIP will help Transition House develop a fundraising strategy to create sustainable funding for affordable housing for low-income women.

Urban Edge HC: The HHIP grant will fund Urban Edge to develop a model to provide regional homeownership opportunities using the Section 8 homeownership program. Urban Edge's new regional approach builds on partnerships with housing authorities and increases housing opportunities for Boston residents.

Viet Aid: HHIP will fund increased capacity in Viet Aid to expand housing production. The emerging CDC serves a population of low-income Southeast Asian immigrants. Viet Aid will work to find housing opportunities in a target area in Dorchester.