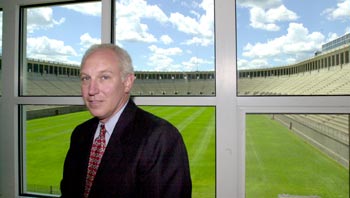 In his new position, which he assumes Aug. 1, Scalise will oversee the 65 intercollegiate teams and 1,500 intercollegiate athletes that make Harvard's the nation's largest Division I athletic program. "Harvard athletics is larger and more inclusive" than any other college program, said Knowles. Through intercollegiate sports as well as intramural teams, club sports, and recreational programs, he said, nearly three-quarters of Harvard's 6,660 undergraduates participate in Harvard athletics.
In introducing Scalise, Summers highlighted his accomplishments as a "proven manager, a proven includer, and a proven athlete."
Scalise was an All-America lacrosse player at Brown University, where in 1970 he led the nation in scoring with 47 goals. He became head coach of Harvard men's lacrosse in 1974 and brought that team to the 1980 Ivy League Championship. In addition, he was the first coach of Harvard women's soccer, which became a varsity team in 1977 and took Ivy League Championships in 1978, 1979, and 1981.
Scalise left coaching in 1987 to enroll at Harvard Business School, from which he received an M.B.A. Since then, he has worked at Bain & Company and at the Business School, where he has been associate dean for administration since 1996.
Encouraging athletic participation among all students is a goal shared by Harvard, Summers, and Scalise. Illustrating Scalise's commitment to broad access to athletics, Summers recalled how two women – students in Lowell House when he was a tutor there – asked Scalise to coach them in soccer before Harvard created its women's soccer team. Scalise agreed, the program grew, and "15 years after that, Harvard has an enormously successful women's soccer program," said Summers.
"I hope to build on the proud traditions of Harvard athletics," said Scalise at the Murr Center press conference, in a room overlooking Harvard Stadium. "I look forward to Harvard's leadership in continuing to provide a broad-based athletic program. Harvard athletics will be a fantastic role model for all educational institutions."
Calling his appointment a "dream come true," Scalise said that the director of admissions at Harvard Business School had called him Monday morning to remind him that on his business school application, he had written that becoming an athletic director at a major university was his long-term goal.
Scalise, who is 51, was selected after a six-month search process led by Jack Reardon '60, former director of athletics and currently executive director of the Harvard Alumni Association and associate vice president for university relations. A resident of Nahant, Scalise is married to former Crimson swimming and diving coach Maura Costin Scalise '80. They have four children.