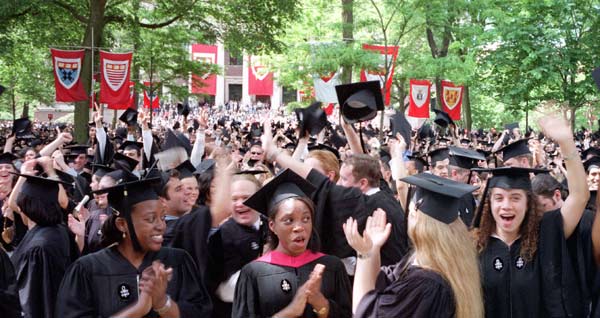 'Run, Harvey, run!'
Among the many elements contributing to the euphoric commotion of a Harvard Commencement morning is the voice of William Hutchison ringing out over the Yard, instructing the various houses and reunion classes where to line up, when to start marching, and interspersing his instructions with fascinating bits of Harvard and world history.
Hutchison, a professor of history emeritus, has been serving as chief Commencement caller since 1987. He is assisted by a second caller (usually engineering professor Fred Abernathy, but this year English professor Robert Kiely filled in). Hutchison started out as an assistant to emeritus classics professor Mason Hammond, who took up his duties in 1931.
Hutchison does not claim to fulfill his duties with the same mastery and devotion as his predecessor, who directed Commencement's complicated logistics from a script in his head, and each year produced a long, typed report describing each delay and bottleneck with suggestions for how the process could be made smoother next time.
But Hutchison has added something new to Hammond's performance – descriptions of what was happening in the world while the members of each reunion class were receiving their diplomas. He finds most of this material by searching through old issues of the New York Times, the Boston Globe, and the Harvard Crimson, often assisted by his graduate students and his wife.
"I'm a historian, so it's something I like to do. Some people say I should cut it out because no one's listening anyway. I'd be willing to drop it, but then I get so much positive feedback. People say, 'Oh, you mustn't stop that. That's one of the things I come for.' Only this morning, a woman asked me for a transcript, which I was able to give her because I write the whole thing out."
But providing historical commentary is a cinch compared with keeping the gigantic herd of students, alumni, faculty, administrators, and dignitaries moving smoothly from the Old Yard into Tercentenary Theatre.
Hutchison says that the 25th Reunion Class is always particularly unruly, and that the president's party, which includes administrators, deans, faculty, honorands, and local officials, is always hard to organize.
"This morning, the provost, Harvey Fineberg, was somewhere deep within Mass. Hall. You could hear me over the loudspeaker yelling 'Run, Harvey, run!'"
Fanfare for the common grad
It's a tradition older even than Harvard, as old perhaps as the courts of the pharaohs or the victory processions of ancient Sumer – the trumpet fanfare to announce the start of an important event.
This Commencement, the fanfare announcing the beginning of the Morning Exercises was played by John Morris '02. It was the first time Morris has played a fanfare at Commencement, but he is no stranger to fanfares in general, having played with the Harvard Band for three years now, including many a half-time show at Harvard football games.
"I really should be using one of the 5-foot-long herald trumpets," Morris said, "but we decided they'd be too big and unwieldy."
A fanfare, which is essentially a short tune used as a signal for ceremonial, military, or hunting purposes, can be composed or improvised or both. Some of the reunion classes have commissioned specially composed fanfares, but when Morris plays a fanfare he generally adds his own flourishes.
What's the secret to a good fanfare?
"You've got to start off at a low volume and then build steadily up to a crescendo. Mostly though, you've got to grab people's attention."
Sharks and halos
Hood length and trim color offer at-a-glance academic identification for those few scholars of regalia. For the rest of us, degree candidates from Harvard's graduate schools made their identities clear with more creative accessories. Law School students carried inflatable sharks, Divinity School candidates topped their mortarboards with pipe-cleaner halos (and there was at least one pitchfork in the crowd), the Ed School waved children's books, and Kennedy School candidates bounced inflatable globes through the crowd.
Students from the Design School held rulers and protractors aloft, and landscape architecture students sprouted pine boughs from their mortarboards. "We were pruning!" said Judith Wong, M.L.A., not wanting to launch her career with an environmental black mark. "We tried to be conscious and get branches from the insides of the trees."
Over here, mom!
As if graduating from Harvard wasn't enough, 10 Kirkland House seniors also had to be seen.
Those watching the Morning Exercises may have noticed a small forest of giant yellow smiley-faced balloons floating above the crowd – with mortarboards, of course.
"They're so our parents can see us," said Keltie Donelan, one of the Kirkland 10.
The yellow smileys were moored above Donelan, Jennifer Lee, Allison Connolly, Megan Austin, Martha McLoughlin, Haley Joel, Caroline Costin, Brooke McCarthy, Lauren Corkery, and Melissa Crandall – who've roomed together in Kirkland House since their sophomore year.
Despite their three years of living together, the women said they were looking forward to graduation and wouldn't really miss each other – especially since half are moving to New York City. When asked if they still liked their many roommates after so many years together, Austin joked, "Well, MOST of them."
And it's not dubbed, either
Overheard from M.B.A. candidates during Corinne Crawford's Latin Salutatory:
"Is she using a TelePrompTer?"
"No, but maybe she has subtitles."
Rudy!
As the degrees were conferred to the Harvard seniors, always the most raucous of the degree-getters, the soon-to-be Harvard College Alumni bid outgoing President Neil L. Rudenstine – who they had claimed as one of their own at Tuesday's Baccalaureate Service – farewell with a cheer of "Rudy! Rudy! Rudy!"
The graduating seniors then showed that if nothing else, their organizational skills survived Class Day revelries, shouting "oh-one!" "oh-one!" and clapping rhythmically faster and faster until Rudenstine quieted them by moving on to the rest of the program with a "Next …next ."
Picture this
Despite the printed program's stern admonition against snapping photos during Commencement, flashbulbs flickered throughout the ceremony and all day long. While professionals trained their lenses on the prominent guests, oldest alums, and most eye-catching mortarboard trim, parents and alumni captured less spectacular – although not to them – Kodak moments.
Grads posed in full regalia in every configuration of families and friends, many brandishing their new diplomas. Undaunted by the prospect of continuing tuition bills, parents snapped younger siblings in borrowed caps and gowns. The steps of Widener Library were a popular backdrop for photos of returning and brand-new alumni. And after all official ceremonies were finished, a throng still crowded by the John Harvard statue, waiting patiently for a photo op with a man who will never, ever say "cheese."
Helllllooooo?
The top question on Thursday for the students staffing the information gazebo in the Old Yard was "Where's lunch?" Some visitors, belying their affiliation with a great institution of higher learning, asked surprisingly rudimentary questions, as well. The winner in that category, said the gazebo staffers, was "Where's Harvard Yard?"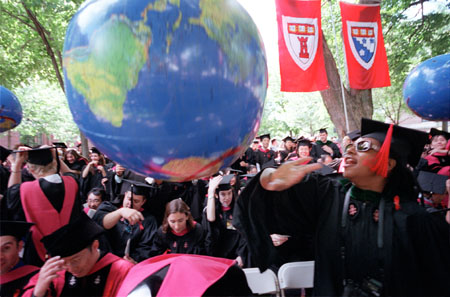 Still goin' strong
At 100, John Eames, Class of 1922, led the Alumni Parade for the Afternoon Exercises as the oldest attending alumnus. Eames, who has returned each year since his 50th reunion, is still spry and eagerly anticipating his 101st birthday on July 19. The centenarian, who hails from Boothbay Harbor, Maine, walked into Tercentenary Theatre to the applause of Marshalls and others lining the route.
"I like the notoriety of it," Eames said when asked why he returns each year. "It's interesting to come, especially on a beautiful day like this."
Reunions
The 75th Reunion Class of 1926 was a small but feisty presence in front of University Hall as they waited to take their spot at the front of the alumni parade Thursday afternoon. The five men had not all met each other before, and one of them – C.H. Mowen of Westfield, N.J. – had never attended a Harvard reunion. What brought him back after 75 years? "I didn't want him to have too few people here," he said, nodding to reunion chair Volney "Turk" Righter of Bedford Hills, N.Y.
Another from the Class of '26, Benjamin Stolow of Brookline, Mass., wouldn't let his farther-flung classmates overshadow him. "I walked here," he joked, patting his cane.
Frances Addelson '30, also from Brookline, has attended Harvard's Commencement festivities regularly since she retired. "As you grow older, Harvard and Radcliffe mean more," she said, wondering aloud whether she was now considered a Harvard alum.
Joining her for the Alumni Association Meeting in Tercentenary Theatre was Mary Emerson Stevens '31 of Newfields, N.H., also no stranger to the day's festivities. "I grew up in Cambridge," she said. "My father and mother used to bring me down here as soon as I could sit still."
The two women, white-haired but bright-eyed and sharp, quickly point out that they are not the oldest alumnae in attendance. "Oh, no," says Addleson. "I heard there's a woman here from the Class of '24."
When 'almost' counts
Harvard alumni being by nature overachievers – and with an assist from inflation – it's hardly surprising that year after year the reunion classes set records for the size of the gifts they gather. But the Class of 1941 set another record that may last for a while. They received a contribution from 99 percent of their class, the highest percentage participation for any class in Harvard's history.
A long road
The Koh family came from Singapore to see their daughter, Gillian Koh, get an L.L.M. degree from the Law School.
The family has made the most of their trip, spending five weeks touring the United States before wrapping up with the Harvard Commencement. Most of the family, consisting of father Cheeweng, Gillian, and sister Sharon – a sophomore at that small college in New Haven – headed back to Singapore Saturday. Gillian's mother, Maureen, however, decided to walk in her daughter's footsteps for a bit, saying on for an executive education program at the Business School.
"We've made a meal out of this trip," Cheeweng said. "It's the end of a long road."
The calm after the storm
Robes off, speeches delivered, degrees conferred, official hands shook, and photos snapped, President Rudenstine could finally relax by about 4:15 on Thursday afternoon. Stepping into the thinning crowd of Tercentenary Theatre, he signed the programs of a few lingering autograph-seekers, mugged for a photo with a proud graduate's mother, and gushed over a relative's new baby. Rudenstine laughed and chatted with the small band of family members – including children Nick, Antonia, and Sonya – who came to celebrate this finale of his decade at Harvard.