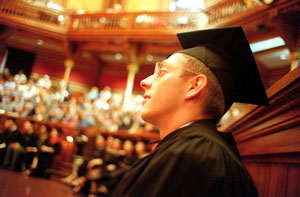 To an audience of about 100 freshly minted Phi Beta Kappa graduates and the esteemed faculty members who led them, Garrison Keillor extolled the virtues of laziness and failure.
Writer, humorist, and host of public radio's "A Prairie Home Companion," Keillor took a bold and humorous tack as orator for the 221st Phi Beta Kappa Literary Exercises Tuesday (June 5) in Sanders Theatre. Lucie Brock-Broido, former Briggs-Copeland assistant professor at Harvard, shared the podium with Keillor as this year's Phi Beta Kappa Poet.
Everett Mendelsohn, professor of the history of science, master of Dudley House, and president of Harvard's Alpha Iota chapter of Phi Beta Kappa, opened the event with highlights from the history of Harvard's Phi Beta Kappa exercises. The ceremony has seen 213 orators and 179 poets, he said. Among them: behaviorist B.F. Skinner and poet Donald Hall, who shared the stage in 1976; poet William Carlos Williams in 1951; and, in 1802, a poet so long-winded that an observer wrote that each of the poem's 12 cantos "was as long as the book of 'The Iliad'."
Professor of Comparative Religion and Indian Studies Diana Eck, president-elect of Harvard's Phi Beta Kappa chapter, introduced Keillor and welcomed him to Harvard where, she said, paraphrasing her guest, "all the women are strong, all the men are, yes, good-looking, and, grade inflation aside, all the students are above average."
Keillor is the first humorist to speak at Harvard's Phi Beta Kappa Literary Exercises. He delighted and surprised the full house with a praise of the ordinary and the mundane that began and ended in rhyming couplets: "It is a joy for one from Minnesota/To join with the members of Alpha Iota."
Insisting that he is not smart, Keillor claimed he was the ideal speaker for the occasion. "You don't need somebody to stand here and talk to you about the pursuit of excellence; you've already done that," he said. "Instead, you need somebody to offer you an alternative."
Keillor's alternative took the audience to a Wobegon-like summer evening when he was 14. In a style familiar to anyone who has spent a Saturday evening with "A Prairie Home Companion," Keillor painted a picture of carefree laziness with images of a screened-in porch, lilacs and begonias, a water sprinkler at sunset, squabbles with siblings and lectures by parents. "The emblem, the symbol, the great prize of this entire life of peace and indolence was one fresh tomato" plucked from the garden, he said.
"Everything changed for me that summer," Keillor said, when he got a typewriter and discovered his passion for writing, at which he has toiled ever since. "I have spent most of my adult life trying to recapture that … beautiful life that is now mostly strange to me."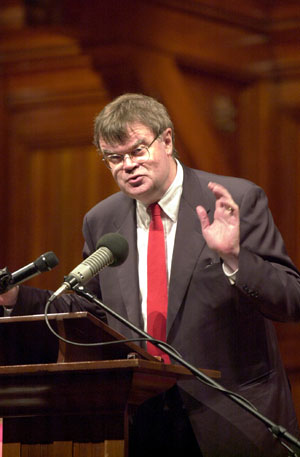 For this audience, Keillor quipped, the drive for excellence "all began with prenatal math." Returning to rhyme to eschew achievement, Keillor announced, "As we gather to celebrate and hail you/It is time to think about the benefits of failure. … It's all well and good to strive for glory/But today's grievous mistake is tomorrow's humorous story."
He implored Phi Beta Kappans to "have yourselves a beautiful and disastrous summer," suggesting that they travel "for a month of indolence and occasional dishonor/Among people who don't understand you and don't even wanner."
"In a nutshell, my advice is/Go, and have a crisis," he said, hinting that it would stave off a later breakdown of greater magnitude.
Lucie Brock-Broido is director of poetry in the writing division of the School of the Arts at Columbia University and author of two books of poems, "A Hunger" (Knopf, 1988) and "The Master Letters" (Knopf, 1995). In her introduction, A. Kingsley Porter University Professor Helen Vendler noted that this occasion marked a "Phi Beta Kappa hat trick" for Brock-Broido, who was a Phi Beta Kappa member as a student and who received its Teaching Award when she taught at Harvard.
Brock-Broido read "The Interrogation," an unpublished poem of seven questions and responses in the voice of mysterious German foundling Kaspar Hauser. Hauser, Brock-Broido said, spent his life locked in a 7-foot-square cell with almost no human contact until he turned up on the streets of Nuremburg in 1828, arousing great curiosity. "His is the quintessential narrative of the innocent who becomes sophisticated through the acquisition of language," she said.
The Rev. J. Bryan Hehir, professor of the practice in religion and society and head of the Divinity School, delivered the morning's invocation and benediction, and Director of Choral Activities Jameson Marvin led the Commencement Choir in works by William Byrd and Anton Bruckner. Former Bunting Fellow Margaret Gullette presented the Phi Beta Kappa Teaching Awards to Mary Gaylord, professor of romance languages and literatures, Plummer Professor of Christian Morals the Rev. Peter J. Gomes, and Nancy Mitchnick, Rudolph Arnheim Lecturer in Studio Arts. Gurney Professor of English Literature and Professor of Comparative Literature James Engell conferred honorary Phi Beta Kappa memberships on Keillor and Radcliffe Institute Dean Drew Gilpin Faust.