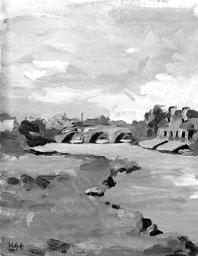 The Harvard Directory Project has announced Hannah Sarvasy '03 as the winner of the 2001-02 student directory cover art competition. Sarvasy's painting, "Weld Boathouse and the Charles," will appear on the front cover of the freshman and student telephone directories.
Sarvasy is a folklore and mythology concentrator from Berkeley, Calif. She has worked on several murals in the Bay Area, and adds the Harvard directory cover to the portfolio of awards she has garnered for her artwork.
The Directory Project is still accepting submissions for the 2001-02 faculty/staff telephone directory. Submissions are welcome from all faculty and staff currently on the Harvard payroll, with the exception of University Information Systems staff based at 10 Ware St. All entries must be received by June 13.
Artists are requested to forward a slide, photograph, or digital image of their artwork to the Harvard Directory Project, 10 Ware St. Original work may not be submitted.
For the official rules and an entry form, visit http://www.uis.harvard.edu/telecom/harvard_directory/. All submissions must be accompanied by an entry form.