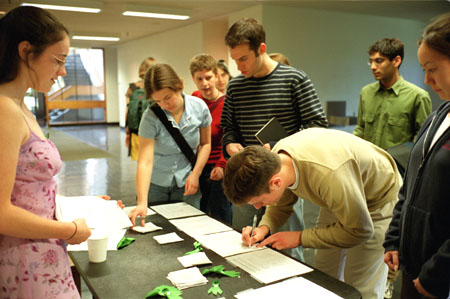 About 60 Harvard College seniors signed a written pledge on Thursday, May 31, to live life as environmentally friendly and as socially conscious as possible.
The second annual "Grad Pledge" took place in Emerson 105. Seniors filing into the hall stopped at two tables set up outside the door to sign the pledge, which reads: "I pledge to explore and consider the social and environmental consequences of any job I hold or lifestyle I pursue."
"We do it to show solidarity that as the class of 2001 we want to make a difference in the world," said one of Grad Pledge's organizers, Rochelle Mackey.
Inside, the seniors listened to speakers from organizations such as Doctors Without Borders talk about what it may mean to fulfill that pledge.
Paul Carrtar, co-founder of The Bridgespan Group, a consulting firm that helps nonprofits reach their goals, urged the seniors to "aim high" and told them, "It's important that you choose a profession that satisfies you. It's not what job you do, it's how you do that job that makes the difference."
Julie Yick, a government concentrator from Eliot House, said she signed the pledge because the act will serve as a reminder when faced with career and lifestyle choices in the future.
"I think the symbolic gesture is important," Yick said. "I think I'll remember the event and look back every five years or so [to evaluate how she's following her pledge]."
Yick plans to teach English in Mexico for a year before returning to the Untied States for graduate school.
Mackey said she had expected more students to turn out for the pledge. Still, she said, the turnout isn't indicative of the commitment of the senior class to environmental and social causes. Members of the class have proven their commitment in many ways other than signing the pledge, and have been active in volunteer and social service activities, such as those organized through the Phillips Brooks House Association.
"There's a lot of people on campus dedicated to service, they just don't know how they're going to get involved," Mackey said.
Thursday's speakers presented different ways graduates can get involved and make a difference. Blue Magruder, director of public affairs for Earthwatch, an organization that links people interested in participating in scientific fieldwork with scientists looking for labor and financial support, said Earthwatch volunteers have had an enormous impact in a variety of ways.
One Earthwatch project, she said, is responsible for greatly increasing the population of endangered leatherback turtles returning to an important breeding beach in Florida. By posting volunteers all night during breeding season, poaching of turtle eggs was greatly decreased. That led to an estimated 46,000 additional turtles finding their way to the sea.
The results of that work are being seen today, Magruder said, as hundreds more leatherback turtles are returning to their breeding beaches than a decade ago.
Magruder closed by quoting anthropologist Margaret Mead: "Never doubt that a small group of committed individuals can change the world. Indeed that's the only thing that ever has."