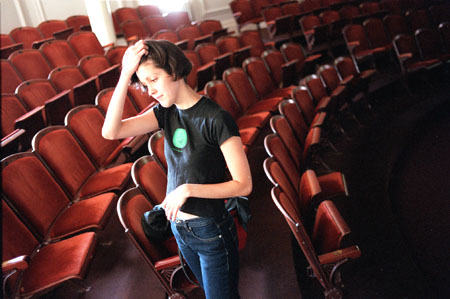 Sitting on stage in the altogether and having your body painted blue in a performance piece called "Untitled" – now that's a college memory!
It's one that belongs to Caroline Whitbeck – poet, playwright, editor, actress, classics concentrator, fashion model. Appearing nude in a friend's experimental theater piece is typical of Whitbeck's try-anything-once attitude. On the other hand, merely sitting in a state of motionless passivity is atypical in the extreme.
More characteristic is having her one-act play "WOOF!" selected for production last September by the Young Playwrights Festival in New York City, Whitbeck's hometown.
She wrote the piece, which she describes as "violent absurdism" when she was 18 and a senior in high school. In it, a girl asks her mother for a dog, the mother says no, and, as Whitbeck says, "It goes crazy from that point."
Father enters, represented by an inflatable doll, which Mother argues with and then deflates. Mother then has an emotional breakdown, delivering "a surreal, Betty Friedan-meets-Sylvia Plath monologue." Her daughter interrupts, wielding a huge butcher knife and warning her: "Mummy, if you do not stop this, I shall breakfast myself with the serrations."
The daughter does breakfast herself, lopping off her hand, which flies across the stage, followed by an effusion of Silly String.
"WOOF!" is Whitbeck's first and, so far, only play. She wrote stories and poetry throughout high school and college, but writing a play seemed like taking a vacation from her real self, and the effect was liberating.
"I said, sure, I'll have a go at it, and it just sort of came, and it was great because there was no censor, no ego attached to it."
Now, four years later, with a professional production on her resume, she's finding that first fine careless rapture a little harder to pull off.
"Part of me thinks I have to see what else is there. I probably will, eventually. But I'm a little bit skittish about it right now."
But Whitbeck has packed plenty of other activities into her time at Harvard. She has been on the poetry board of the Harvard Advocate since 1998, serving as poetry editor in 1999-00 and president in 2000-01.
"That kept me busy," she said about her stint as president of the venerable student literary journal. "It was a lot of plates to spin, to go from dealing with content to running what is essentially a small business."
Another plate that she managed to keep in the air was her senior thesis, titled "A Strange Ruin Built Yesterday: Roman Spectacle and Its 19th Century Literary Reception." Working under Professor of Latin Kathleen Coleman, an expert on Roman spectacle who was a consultant for the movie "Gladiator," Whitbeck looked over the shoulders of writers like Henry James and Edward Bulwer-Lytton to see what ancient Rome's extravaganzas looked like from their Victorian perspective.
One more plate – a particularly lightly spinning one – was her participation in a friend's fashion show, in which she did an attitudinous runway turn wearing the collection's more outré creations.
"I thought, I will never get to do this in the real world, but I can do it here. Apparently, I have a real sassy runway attitude. It's all in that little head tilt, kind of like the velociraptors in 'Jurassic Park.'"
This past year, her academic work and her obligations at the Advocate often eclipsed her own creative writing. She is looking forward to changing that balance in the future.
"I wasn't thrilled to have my own writing on the back burner, but I know to keep my head above water that's what I had to do. So much of Harvard is based on – you know, burn through it, get this chapter read, keep going. It's really hard to say, well, I'll give myself an hour to write. So a lot of times I didn't have the time for it."
Whitbeck's postgraduation plans are vague – deliberately so. She'd like to take an M.F.A. degree in writing but wants to spend a year off to "wiggle – give myself some space to breathe, realign everything, sort of figure out what I'm like when I'm not in school."