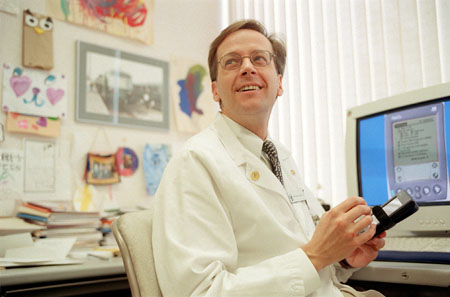 Once every 20 seconds in the United States, someone goes to a hospital emergency room with worsening chest pain or a small heart attack. Doctors must quickly determine whether that person should be given medication and sent home, or whether he or she should undergo aggressive treatment such as a catheter threaded into the heart.
"We see five such patients a day at our hospital," says Christopher Cannon, a physician at Brigham and Women's Hospital in Boston.
To aid in resolving this widespread dilemma, researchers at Brigham and Women's and Harvard Medical School have developed a handheld computer program to help doctors calculate a patient's risk for a serious or fatal heart attack.
"Some 1.4 million people a year come to U.S. hospitals with this problem, and we need a rapid, effective way to identify those who should receive more aggressive and expensive therapies," says Cannon, who is also an assistant professor of medicine at Harvard Medical School. "We think that the risk-score program can give physicians the information they need to do this."
Each patient receives a score based on seven proven risk factors. These factors include age, elements such as high blood pressure and high cholesterol, past history of heart disease, medications, electrocardiogram (EKG) readings, recent chest pains, and findings from blood tests. These are linked to past outcomes from large studies involving thousands of people, including the decade-long Harvard/Brigham Thrombolysis in Myocardial Infarction (TIMI) study. Handheld computers or plastic cards make crucial information available at the bedside; a doctor does not have to go to a file cabinet or log onto a Web site.
Cheney gets high scores
Cannon described how the risk indicator would have worked in the case of the country's most famous heart patient, Vice President Dick Cheney. The risk indicator was not yet available, but Cannon used his case to demonstrate how the device works to participants at an American College of Cardiology meeting.
When Cheney showed up at a hospital last November with chest pains, he had a risk score of five out of seven. His blood pressure and cholesterol were high, he had suffered previous heart attacks, and his EKG showed abnormalities. A blood test revealed the presence of troponin, a protein released from heart muscle during a heart attack.
In such cases, the TIMI Risk Calculator calls for aggressive treatments. A long instrumented tube, or catheter, was threaded into Cheney's heart where a coronary artery was found partly clogged. Cardiologists unblocked the artery and then installed a tubular, wire-mesh stent to keep the blood vessel opened.
When chest pains brought Cheney back to the hospital in March, his score was lower, four out of seven. The score dropped because measurements of toponin showed no evidence of a heart attack.
This time Cheney's chest pains came from scar tissue that was blocking his stent. Cardiologists snaked a thin, hollow catheter containing a collapsed balloon into the troublesome artery, then unblocked it by inflating the balloon. About 750,000 Americas undergo such treatment, called angioplasty, every year.
This treatment triggered a rash of hindsight. Critics said that Cheney's doctors could have added a new radiation technique to help prevent another blockage because there is about a 50-50 chance that scar tissue will close the heart artery again in six months or less. Based on past experience, however, treatment guidelines call for balloon angioplasty in this situation. Time will test this guideline in Cheney's case.
Doctors neglected treatments
You would think that cardiologists always use the latest procedures and drugs that have proved effective. That's not necessarily so. A national study done in the mid-1990s by the University of Michigan found that doctors neglected to use some of the latest best treatments in heart attack patients as much as half the time. This finding spurred the introduction of pocket-sized reference cards and Palm Pilot computers for better bedside care.
For example, TIMI studies showed that a new type of blood thinner (enoxaparin) is superior to one used in many hospitals. On this basis, the bedside guide recommends that doctors give patients the new drug when a they have a score of four or higher. "Our research indicates that patients in this category will do better with enoxaparin than with an older drug," Cannon comments.
TIMI researchers also discovered that patients with even very low troponin levels in their blood are at an increased risk of death and heart attack during the next 30 days. "Therefore, it's important to look at all seven risk factors to identify patients that need more aggressive treatment," Cannon notes. "Using the TIMI risk score expands to 75 percent the number of patients that we studied who benefited from going quickly to the catheterization lab. About half of these patients would have been missed if we used only toponin levels and not the whole risk score."
Overall, choosing aggressive treatment for those in the five-to-seven risk levels, like Cheney, has led to a significant decrease in the risk of death and heart attack during the six months following treatment for chest pains.
Kim Eagle at the University of Michigan compared the treatment of patients with worsening chest pain before and after doctors started using score cards. He found a definite improvement when the cards are used. The Harvard/Brigham group has given their cards and handheld-computer program to about 1,000 hospitals in the United States.
Cannon notes that a recent survey of 460 doctors showed that approximately 80 percent of them use the handheld computers. "These users include both younger and older physicians, those who have practiced 15 years or more and those who are just joining the ranks of cardiologists," he says. "Thus, we are optimistic that these computer devices will achieve our goal of improving the care of patients who come into hospitals with worsening chest pains."