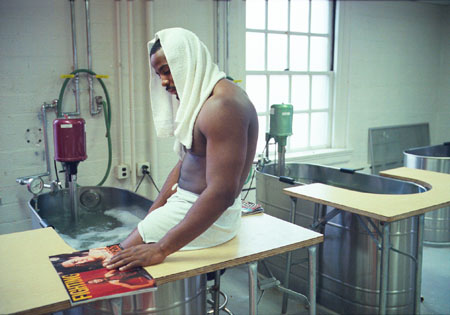 Staff photos by Kris Snibbe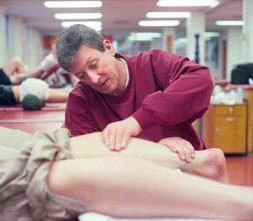 Head Athletic Trainer Dick Emerson is big on feelings. The 30-year Harvard veteran – affectionately known as "Emmo" by both staff and students – is entrusted with the treatment, care, and physical rehabilitation of the University's 41 varsity and 23 junior varsity sports teams. And this is in addition to his traveling gig with the Crimson football and hockey teams.
All told, Emmo and his invaluable Dillon Field House staff of seven trainers oversee the medical training and recovery of 1,500 Harvard athletes – a staggering task further aggravated by longer and overlapping seasons, a huge jump over recent years in the number of sports (a mere 12 when Emerson first began), and the proliferation of preventive care. Emmo's body of "customers" shows no signs of letting up.
Yet despite this steady influx of sprained ankles and pulled hamstrings, Emmo takes a decidedly personal approach with each and every injury. "We don't have recipes for managing different injuries," he says. "You know your guidelines – but seeing the athlete tells us how we should approach a treatment. It's a feel situation."
Such willingness to modify treatment on a case-by-case basis can have a profound impact on the road to recovery. Using the latest sports medicine equipment, such as ultrasound and electrical stimulator machines, in addition to the ever-reliable ice and tape, the Medical Training Room is able to maintain a range of treatment options and protocols. "You recharge their batteries by doing something different," explains Emerson.
Crimson cornerback Xavier Goss '02 echoes the effectiveness of the personalized touch – "Even though I can't think of an athlete who enjoys being in the training room, when you do need to go, the staff is always full of smiles and jokes and makes your time there the least painful as possible."