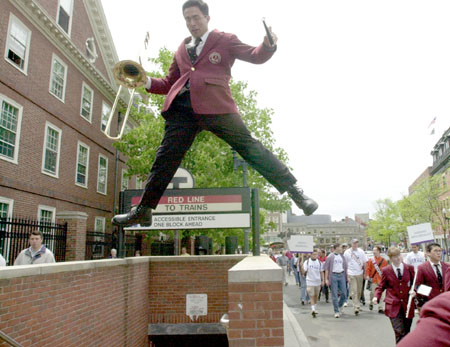 This year's Harvard Arts Medal honoree, the multi-talented Peter Sellars '80 – director of theater, opera, and film – was a snug fit for the ninth annual Arts First festival. Much like Sellars, who received the award from President Neil L. Rudenstine, the four-day festival runs the gamut of artistic expression and style.
From a cappella jams to Tchaikovsky's "1812 Overture," the campus-wide celebration, which kicked off this past Thursday (May 3) and continued through Sunday (May 6), featured more than 200 performances, installations, and events. Such aesthetic diversity was strongly represented in and around the Yard at Saturday's Performance Fair – a four-hour blitz of music, theatrics, and dance. At another Arts First fixture, Saturday's parade and picnic, actor John Lithgow '67 – grand marshal of the festivities – offered some welcoming remarks.
Managed by Harvard's Office for the Arts, the festival included some 2,000 Harvard performers and artists – giving even the most finicky audiences a thing or two to gawk at.