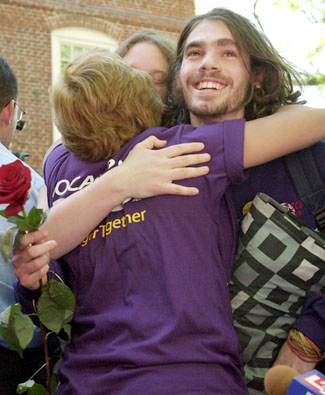 Harvard President Neil L. Rudenstine yesterday announced the formation of a University-wide committee to consider principles and policies regarding the compensation and opportunities available to lower-wage employees and contracted workers at Harvard University. The committee, to be chaired by labor economist and Harvard faculty member Lawrence Katz, will consist of 10 additional faculty members, five Harvard staff members (three unionized employees and two senior administrators), and four students (two undergraduates and two graduate students) to be named by elected student councils.
The announcement of a further process to study the welfare of Harvard's lowest-wage workers helped convince the 25 student protesters remaining in Massachusetts Hall to exit the building and end their sit-in that had begun April 18.
In a written statement, Rudenstine called the sit-in's end a "welcome development" and thanked University Police and staff who work at Massachusetts Hall for their efforts and patience during the standoff.
"I want to convey special thanks to the University Police, who have exercised extraordinary professionalism and good judgment during this episode, and to my colleagues in Massachusetts Hall, whose remarkable dedication and perseverance under very trying circumstances have my deepest admiration. I also thank the many others in our community – faculty, staff, students, union leaders, and others – who have contributed toward the resolution of this situation.
"I hope we can now proceed to discuss and debate these important matters in a manner that reflects values central to a university – reasoned inquiry, honest exchanges of opinion, and respectful concern for all members of our community," Rudenstine said.
The new committee has a broad mandate. Affirming that Harvard, "as a socially responsible institution, is committed to employment practices that reflect a humane and principled concern for the well-being of all individuals who work on its campus," Rudenstine has asked the committee to consider in a comprehensive way the economic welfare of lower-paid workers at Harvard, whether employed directly by the University or by outside companies. The committee will be asked both to develop principles and policies regarding the compensation and opportunities available to lower-paid workers, and to examine "outsourcing" or "contracting out" of certain service functions by the University.
In addition to the new committee process, the University announced that until the recommendations of the committee are formulated, it will defer consideration of any new proposals to outsource work currently performed by Harvard-employed custodians, food service personnel, museum guards, or parking attendants.
Sit-in ends
The remaining 25 protesting students filed out the front door of Massachusetts Hall at about 4:15 p.m. Tuesday during the last and possibly the largest of what had become daily rallies in Harvard Yard. Tuesday's rally drew more than 1,000 students, faculty, workers, union representatives, and Cambridge officials to watch the sit-in end.
The 25 activists left Massachusetts Hall to the roar of the crowd and into a phalanx of television and still cameras on hand to record the end of a protest that had captured international attention. Forty-six members of the Progressive Student Labor Movement began the sit-in on April 18 when they stormed into Massachusetts Hall, sat down in the corridor, and refused to move.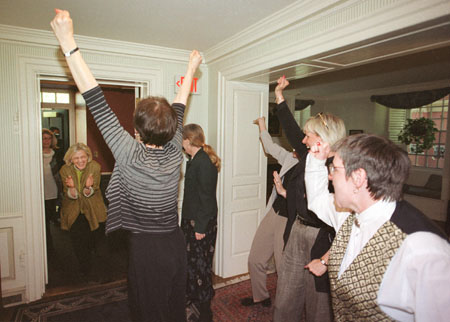 Speakers at the rally celebrated a "victory" for the student demonstrators that fell short of their initial demands that the University implement a $10.25 minimum wage for all workers on campus, whether directly employed by the University or not, and establish wages outside the collective bargaining process with the University's 10 unions.
Still, students counted as a victory the fact that the University agreed to re-examine an issue it had said was closed and to do it through a committee with broader membership than the faculty and administrators that made up the 1999-2000 Ad Hoc Committee on Employment Policies.
"We have organized and won something tremendous today," Harvard junior Ben McKean said after emerging from Massachusetts Hall. "It is no longer possible for power to operate at Harvard without acknowledging the principle that people should not work for less than a living wage."
Rudenstine stressed that the committee should ground its analysis in a thorough examination of relevant data and in the consideration of a wide range of views from across the University community. Emphasizing the special importance in a university of careful inquiry and reasoned discussion, Rudenstine stressed that "there should be no prejudgment about outcomes, only a shared commitment to marshaling relevant evidence, hearing all points of view, weighing principled arguments, and proposing fair and practical recommendations for action."
The new committee is being created almost exactly a year after its predecessor, the Ad Hoc Committee on Employment Policies issued its report. The Ad Hoc Committee recommended against implementing any Harvard-specific minimum wage, opting instead to keep wage negotiations within the collective bargaining process while enhancing education and benefits for low-wage workers.
A centerpiece of their recommendations is an education program that provides English as a second language training, high school equivalency courses, and computer and other job-focused skills training. The educational benefits, some offered during paid release time from work, would go further to enhance workers' future prospects than would a one-time wage gain, the Committee said.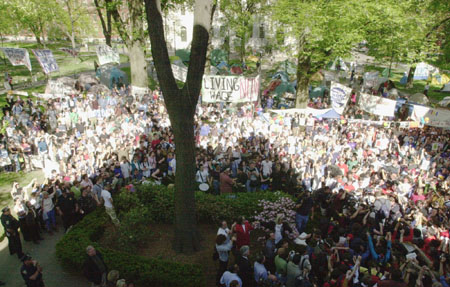 The University has a strong history of commitment to collective bargaining, the administration said, and in recent days has had a series of conversations with unions representing Harvard workers. A new contract with the Harvard Union of Clerical and Technical Workers (HUCTW) was ratified last week, and contract negotiations with Local 26 dining service workers are proceeding as scheduled. The University is confident that these negotiations will produce a contract that will be mutually satisfactory to the union, its membership, and the University.
In addition, the University has engaged in discussions with Service Employees International Union Local 254, which represents Harvard's custodial workers, to lay the groundwork for negotiations on a contract that will succeed the current one, due to expire in November 2002. The two parties agreed to begin talks on the new contract within four weeks of the committee issuing its recommendations, due in December 2001.
As a consequence of ongoing discussions with the union's new leadership, Harvard and the union have agreed to consider the use of "interest-based bargaining," which was a cornerstone of the recent HUCTW negotiations, and to make retroactive any enhancement of initial wage rates agreed to in the next contract. The University will also examine and improve as needed the implementation of previously afforded benefits, and will suspend new proposals for the outsourcing of certain service functions until the Committee's recommendations are presented and acted upon.
Union leaders played a prominent role in Tuesday's rally and in convincing students to leave Massachusetts Hall. Representatives of several organizations, including the AFL-CIO, Service Employees International Union, the Hotel Employees and Restaurant Employees International Union, and the International Brotherhood of Electrical Workers, attended the rally to showed their support.
Political leaders also hailed the sit-in's end. U.S. Sen. Edward Kennedy, D-Mass., addressed the rally via cell phone, praising both the students' courage and the administration's restraint and willingness to listen.
'Run around the Yard'
Students who spent the last three weeks camped out in Massachusetts Hall's first-floor corridor were satisfied with the sit-in's resolution, saying they felt their efforts helped raise awareness about concerns for low-paid workers and created a new community around the issue. They also said they were relieved just to be in the sun again.
"It feels great to be outside and to see everyone out there," said Adams Rackes, a junior. "I think I'm just going to go run around the Yard."
Rackes said he had moments of doubt during the three-week holdout, but said the support from the community helped convince him he was doing the right thing. Students involved in the sit-in face the possibility of disciplinary actions in a manner to be determined by the administrative boards of their specific schools.
Matthew Skomarovsky, also a Harvard College junior, said he felt surprisingly normal being outside Massachusetts Hall. He also said he felt hopeful that the coalition formed during their sit-in, of students, workers and faculty, would hold together to see the new Committee process through.
The Committee will be expected to conduct broad outreach across the University with the intention to create a fully inclusive process in which all voices within the University community can be heard and considered. The Committee will be asked to issue its report and recommendations by Dec. 19, 2001.
Harvard's planned steps "give tangible expression to a set of enduring ideals," Rudenstine said. "Important issues of widespread concern within our community should be discussed carefully and responsibly, through an appropriate process. Substantive outcomes should emerge from reasoned deliberation, not otherwise. A university and the unions representing its employees should pursue approaches to collective bargaining that aim to advance common interests. And all of us in the university community should be concerned for the welfare and dignity of each one of us. Harvard has long aspired to meet these ideals. We will continue to do so."