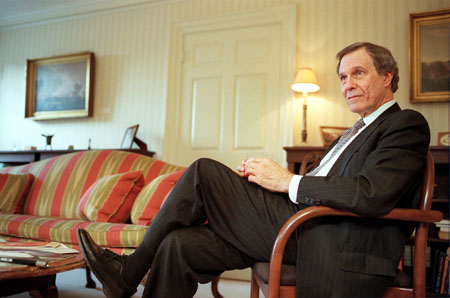 After three years as a Rhodes Scholar and six months fulfilling his ROTC obligations as an artillery lieutenant at Fort Sill, Okla., Neil Rudenstine came to Harvard as a graduate student in English literature.
In a speech given in 1994 to launch Harvard's Capital Campaign, President Rudenstine described his initial impressions of Harvard. Coming from the sandy plains of Fort Sill, where he had been firing 105 mm howitzers at the rusted hulks of Buicks and Cadillacs, he found Harvard Yard to be "an unimaginable green oasis."
He described how he'd sat contemplating that fabled space from one of the parapets of Widener Library, and thinking that he had come finally to measure himself against the highest scholarly standards.
"To my mind, Harvard did not only set the standard; it was the standard. I realized that if I failed to keep a rendezvous with this university, I would always feel as if I had been unwilling to test myself against the very best. Like the uncertain hero in Cole Porter's ballad, I would have constantly wondered, as I wandered through life, looking at things:
Is it the good turtle soup, or only the mock?…

Is it Granada I see, or only Asbury Park?"
Not only did Rudenstine get to taste the real turtle soup, he thrived on it. Two of the 20th century's greatest literary scholars, Douglas Bush and Harry Levin, were advisers on his Ph.D. dissertation, a study of Sir Philip Sidney's poetic development. He served as a teaching assistant in a literature course taught by another renowned Harvard scholar, Reuben A. Brower. Brower was also the master of Adams House, where Rudenstine had his office. This arrangement made for a rare sense of intellectual camaraderie with both students and faculty.
"That sense of being part of an intellectual community and an academic teaching group made an enormous difference to my experience," Rudenstine said. "There were eight or nine of us who were teaching in the course, and we'd all meet for lunch every other week and discuss what kinds of writing assignments we were going to give out, how the course was going and where it was going, and should we do more of this or less of that. So there was real mentoring. You got a sense of how to do a course and how to do it with other people."
After earning his Ph.D. in 1964, Rudenstine accepted a position as a junior faculty member. Through his teaching and his connection with Adams House, he developed close relations with many undergraduate and graduate students. Ironically, it was his rapport with students that led to an abrupt change of direction in his life, a fork in the road that would lead him away from teaching and into administration.
One afternoon in October 1967, Rudenstine was walking along Oxford Street when he noticed a commotion in front of Malinckrodt Hall. A crowd of students, including some he recognized from his classes, were staging a sit-in. Rudenstine asked what was going on and learned that the students were protesting a recruiter from Dow Chemical Co., the manufacturer of napalm. They were blocking the exits of the building and would not let the recruiter leave.
Rudenstine began talking with the students, reminding them that they were abusing the man's civil rights. At one point, he took the bullhorn that one of the student leaders had been using and made an impromptu speech, expressing his feelings that the methods they were using were inappropriate for a university campus.
"I don't know how much they agreed or disagreed, but it seemed to have some effect. My own students particularly looked a bit sheepish, and eventually they began to drift away, and then they unlocked the door and let the poor guy out."
Although he was admittedly naive about politics at the time – and more concerned with Renaissance poetry than with the Vietnam War – the incident seemed to galvanize Rudenstine's feelings about the nature of the university and how people should conduct themselves there.
"It wasn't a question of whether I was against the war or not. It's that this went against the grain of all the ideas I had about what a university campus should be like. It just seemed to me quite wrong for people to be treating other people in that way."
The incident was reported in the press, leading to a call from Princeton the following spring: Would Rudenstine be interested in the dean of students position?
In some ways the offer was a very attractive one. Princeton was his alma mater, a place of which he had fond memories and which had helped launch him on his career as a scholar and teacher.
On the other hand, returning to Princeton meant taking a detour in the road he had been pursuing for the past eight or 10 years, the road of teaching and scholarship. Although the Princeton job would mean an appointment in the English department, it was clear that Rudenstine's administrative duties, particularly in this time of political and cultural turmoil, would take precedence over his teaching and scholarship.
Moreover, he had in hand a Guggenheim fellowship to study Renaissance literature in Italy. Accepting the Princeton offer would mean giving up that opportunity.
"That was a large decision for me because an impromptu meeting is one thing, but taking on the job of doing that all the time is quite another."
Rudenstine visited Princeton where he met with then President Robert Goheen and other members of the administration. He learned that Princeton was on the brink of sweeping changes – going co-ed, recruiting more minority students, and generally making the institution more open and accessible.
"I started thinking about the whole issue of working one's way through this very difficult period of universities in turbulence. And while I didn't have much experience in that area, I did care deeply about universities. I didn't want to see them broken up and traumatized and destroyed."
Rudenstine accepted the job. But at the time it seemed like a temporary shift in focus rather than a complete change of direction.
"I always thought of it as a relatively modest interruption. I thought, well, I'll do this for three or four years, and then I'll go back into the English department full time."
The "modest interruption" ended up lasting 20 years. It also led to an important relationship with another academic-turned-administrator, William Bowen.
Trained as an economist, Bowen held the position of provost when Rudenstine arrived. The two men found that they were able to establish an effective working relationship.
"We had a natural rapport," Rudenstine said. "We also had complementary interests, skills, and temperaments, and so it became a kind of partnership very early on."
According to Bowen, Rudenstine had a natural feeling for the job, despite his inexperience.
"He had a very clear, intuitive sense of what to do, right from the first," Bowen said. "He's a highly intelligent, thoughtful, very capable person. He's always been that way. I think he was born that way."
Bowen said he particularly valued Rudenstine's ability to work with people as well his talent for "seeing the potential complications of anything we did or didn't do. He saw around corners that I didn't even know were corners."
There were times, however, during those early years, when Rudenstine found himself wondering what he had gotten himself into. He remembers the campus turmoil as being "a lot more fierce" than he anticipated. It was a time when "the least little rumor or upsetting incident could ignite people in terribly irrational actions."
During one demonstration, Rudenstine waded into the melee in an effort to restore order and collided with someone's fist. When a photo of his unconscious form appeared in the papers under the caption "Princeton dean felled," Rudenstine, by then long since recovered, rushed to call his parents and assure them that he was still alive.
"If you took some of the worst moments and multiplied them X number of times, you could imagine what the French Revolution must have been like," he said.
In 1972, Bowen became president of Princeton and Rudenstine became dean of the college. Then, in 1977, he was named provost. Those years at Princeton, he said, constituted his formative experience as an administrator.
"I would say that whatever management style I have, it certainly came out of the Princeton environment. And given the fact that Princeton is a smaller and far less decentralized institution than Harvard, with really only one faculty of any scale – Arts and Sciences – the style there was highly consultative, with an emphasis on working with faculty as well as with other administrators to define goals and decide on ways to achieve them."
As provost, Rudenstine felt that he had found his niche. "I was really happiest working inside the institution on academic and related matters with the faculty," he said. The emphasis on external relations and the greater distance from the faculty, which he believed a university presidency would entail, did not appeal to him. So strong was this conviction that when invitations came to apply for the presidencies of other universities, he lost no time in turning them down.
"It simply wasn't a set of tasks that I thought I either wanted or would be suited for," he said.
He did not even consider applying for the Princeton presidency when Bowen stepped down in 1988 to become president of the Mellon Foundation. Instead, Rudenstine followed Bowen and became the foundation's executive vice president, overseeing the awarding of grants in the arts and humanities.
Rudenstine describes his years at the Mellon Foundation as "really marvelous … an exciting experience." It wasn't until 1990 when he was invited to apply for the Harvard presidency that he realized how much he missed a university environment.
"From the time I left boarding school, I had never been outside of a university, and I didn't realize how much it was in my bloodstream. I hadn't realized how embedded in that kind of an environment I was, and how much the idea of being in a university again was very appealing. So I found myself, to my own surprise, reconsidering the whole question."
But with a position as important as this one, there were some very big corners to try to see around. What concerned Rudenstine most was whether Harvard's needs coincided with what he had to offer.
"It was important to me that whatever skills and style and capacities I had were really something that Harvard needed and wanted. Otherwise, there was no point in my trying to convert myself into something I wasn't, or of Harvard taking on somebody who wouldn't really fit the institution."
Rudenstine's departure for Harvard would mark the end of a partnership with William Bowen that had flourished for more than two decades
"Encouraging Neil Rudenstine to leave was one of my biggest tests of character," Bowen said. "But I was so confident that he could do it and that it was an exceptional opportunity for him and for Harvard. I was proud of myself that I rose to the occasion."
And so, in 1991 Rudenstine became the 26th president of Harvard University. If his presidency did not begin as tumultuously as had his tenure at Princeton, it was certainly not without its share of change and accomplishment.