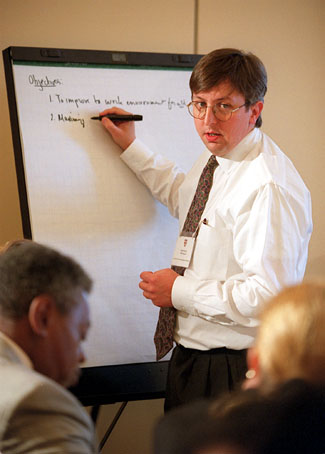 If any of the 120 Harvard managers attending the Sixth Workforce Management Conference on Friday, May 18, were hoping for a free lunch and an easy day out of the office, they were sorely disappointed.
True, the conference did provide a box lunch, but participants spent most of the day hard at work creating action plans to make their workplaces more diverse and inclusive. It was this task-focused approach that some attendees said made the conference the most successful yet.
"The emphasis today is going to be on rolling up your sleeves and working together," said James Hoyte, associate vice president in the Office of the Assistant to the President (OAP), which co-sponsors the Workforce Management Conferences with the Office of Human Resources.
President Neil L. Rudenstine opened the conference at the Business School's Spangler Center with remarks that reinforced the University's top-down commitment to diversity. "We have continued to make progress in diversity … but any look at the figures will show how much farther we have to go," he said.
In 2000, according to the OAP, minorities made up 13.6 percent of the nonfaculty executive, managerial, and professional employees at Harvard, up from 12.5 percent in 1999. Since 1991, however, the percentage of black employees in the same job category has dropped from 5 percent to 4.8 percent. Retention is a major concern for the University, with minorities – particularly blacks – leaving Harvard at much higher rates than nonminority staff.
Several case studies helped participants think about retaining minority employees with an inclusive workplace. James Honan, a lecturer at the Graduate School of Education, led a lively discussion of the first case study. Karen Leary, a Merrill Lynch brokerage manager, hired Taiwanese financial consultant Ted Chung to court Taiwanese clients and increase profits at the branch she managed. Leary was forced to navigate the turbulent waters where Taiwanese business practices and Merrill Lynch corporate culture met – and did so without much success.
Consultant Lewis Rambo helped summarize the Karen Leary case with a broad look at diversity, inclusion, and culture. "Diversity is easy to see, but inclusion is much more complex," he said.
After discussing two shorter case studies set at Harvard, conference participants got down to the real business of the day: identifying specific strategies that would make their workplaces more diverse. Grouped by school or office, conference attendees buzzed with ideas for developing and retaining staffs of color. Goals and objectives, resources and barriers, and finally action plans went up on flip charts. Action steps were as varied as the schools and departments that created them: from career development and management training to standardizing exit interviews to creating fellowships and brochures.
Shifting from the theoretical to the practical proved valuable to conference participants. "Without the action plan, I can't imagine that we'd ever get it done," said Mary Shia, assistant director of development at the Graduate School of Design (GSD). Lauren Baccus, human resources director at the GSD, has attended all six Workforce Management Conferences. "They've gotten progressively better," she said. "They've really used our feedback."
Whatever varied strategies the teams of attendees take back to their respective offices, the University's goal is straightforward. "We need to make Harvard a great place to work," Provost Harvey V. Fineberg told the attendees at lunch. "Our job is to make sure that everybody at Harvard understands that they do belong, and that we do as an institution whatever it takes to help them succeed."
Contact Beth Potier at beth_potier@harvard.edu