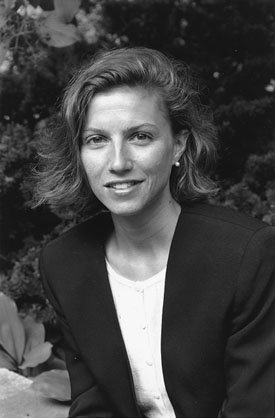 Christine Jolls, a pioneer in the emerging field of behavioral law and economics, and a scholar of employment law, has been named a professor of law at Harvard Law School (HLS) – a tenured position. Jolls, a 1993 graduate of HLS, has served as an assistant professor since 1994, with a two-year hiatus when she served as a law clerk first for Judge Stephen F. Williams of the U.S. Court of Appeals, then for Supreme Court Justice Antonin Scalia.
"Harvard Law School is fortunate that one of the world's foremost experts in employment law has agreed to become a tenured professor here," said Dean Robert C. Clark. "Christine Jolls is the leader of a new generation of scholars that incorporate behavioral models into the economic analysis of law. The Harvard Law community will benefit immensely from her cutting edge scholarship."
One of the country's leading researchers on employment and labor law, Jolls seeks to integrate more realistic insights of people's psychological makeup into traditional economic analysis of law. This behavioral approach distinguishes her scholarship from traditional law and economics. At Harvard, Jolls has taught employment law, contracts, and numerous seminars in labor law.
"This is a great institution, and I'm honored to be a part of it," Jolls said. "I look forward to a future of continuing my work on employment law and the economic analysis of law surrounded by the terrific students and colleagues here."
Jolls currently serves on the editorial board of the American Law and Economics Review and is a faculty fellow for the Harvard University Mind/Brain/Behavior Interfaculty Initiative. Jolls has also been appointed a National Fellow at the National Bureau of Economic Research.
In addition to her law degree, Jolls holds a Ph.D. in economics from the Massachusetts Institute of Technology and an undergraduate degree in English and quantitative economics from Stanford University.