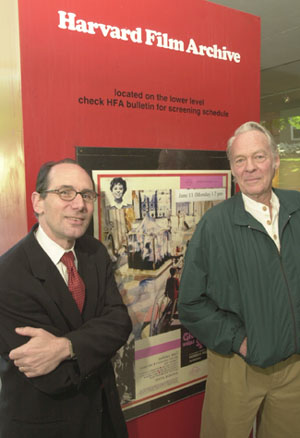 For many years, Stanley Cavell, Ph.D. '61, has been at the forefront of combining philosophical inquiry with the study of film. Thanks to the generosity of retired Harvard faculty member and filmmaker Robert G. Gardner '48, A.M. '58, Cavell's contributions to the area of film studies have been permanently honored with the creation of the Stanley Cavell Curatorship of the Harvard Film Archive (HFA).
"Stanley Cavell's work has been of ongoing importance in the real maturation of the field of cinema studies," explained Bruce Jenkins, senior lecturer in the Department of Visual and Environmental Studies and the first Cavell Curator. "His writings serve as the building blocks for some of the most important thinkers within contemporary film studies. We're enormously grateful for his presence and his work, and there's probably no better way of acknowledging that than to name this curatorship for him.
"Bob Gardner made this gift several years ago," added Jenkins, "and he's obviously given a lot of thought in the intervening years about whose work in the community has had the greatest impact. In naming the curatorship, I think he's very rightly made the judgment that it's Stanley Cavell."
Gardner, who is currently an associate of the Department of Visual and Environmental Studies, concurred with Jenkins's assessment of Cavell. "In his letter to Stanley Cavell telling him that his name would designate the curatorship, Dean Jeremy Knowles spoke of 'the wonderful treasure that is the Harvard Film Archive,'" Gardner said. "I am grateful for the Dean's clarity on this matter, and would add only that Stanley Cavell is likewise a treasure – not only to Harvard but to film itself."
In addition to being the author of numerous influential books, Cavell is perhaps best known to Harvard students as the instructor of Moral Reasoning 34, "Moral Perfectionism," a course that paired modern philosophical writings with Hollywood films from the 1930s and '40s. Cavell retired in 1997 and is Walter M. Cabot Professor of Aesthetics and the General Theory of Value Emeritus.
Founded in 1979, the HFA boasts a collection of more than 6,000 films in their original formats. The archive coordinates the screening of films for many Harvard courses, allowing students, faculty, and members of the general public to experience films as they were intended to be seen – on a big screen before a large audience. Since assuming the curatorship of the archive less than two years ago, Jenkins has undertaken several initiatives, including applying for membership in the International Federation of Film Archives (FIAF) and developing plans for a major preservation project that will be coordinated with other FIAF members. "Something that's sitting here at Harvard may become the key to the long-term viability of a major film," he explained of the preservation project.
Jenkins said that he is also working with Harvard University Press on developing a book series called "Voices and Visions," which will examine "films through the eyes of their makers." He is currently collaborating with Gardner on the first book in the series, an examination of Gardner's acclaimed 1986 film "Forest of Bliss."
"We're enormously fortunate to have Bob Gardner among us," said Jenkins, "not only because he's a major nonfiction filmmaker but also because he has a very robust interest in seeing film studies here at Harvard thrive. Bob understands – as a filmmaker – the importance of having access to good prints."