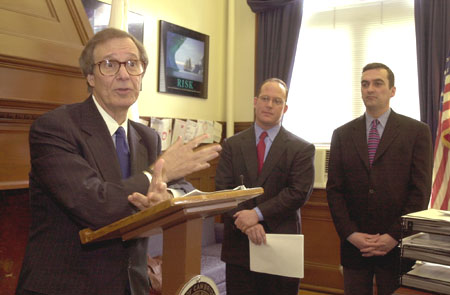 Harvard University and Cambridge Rindge and Latin School (CRLS) announced today a new partnership to create The Cambridge-Harvard Summer Academy, a summer school program for Cambridge students.
The academy, to be launched next month, will bring teacher interns from Harvard Graduate School of Education's (GSE) teacher education programs together with master teachers from Cambridge Public Schools to enhance the city's existing summer school program. The academy will offer smaller classes and more individualized attention for students by increasing the teacher-to-student ratio by 80 percent. In an effort to boost student learning and subject mastery, the academy will extend the current summer school program from four to five weeks and hold classes five, rather than four, days a week.
Cambridge Mayor Anthony D. Galluccio, in thanking President Neil L. Rudenstine and the Graduate School of Education, said, "this comprehensive summer school program marks a substantive step by a major university to work in a direct way to address Cambridge's public education challenges. By entering into this partnership Harvard University is committing both financial and intellectual resources to our school system. Cambridge has all the ingredients to be a world class school system and with help from world class institutions like Harvard we can meet that goal."
"It's not about the money," Galluccio added. "It's about getting leadership together."
"We are pleased to have this opportunity to broaden Harvard's commitment to Cambridge, our host community, and build on the GSE's history of involvement with Cambridge Public Schools," said Rudenstine.
Harvard University, through the office of the President, is making a $1 million commitment by providing programmatic support and academic services through the involvement of faculty, students, and administrators over a five-year period beginning this summer. "This is just the beginning of this kind of work," said Rudenstine. "It's now our job to let the people who really know how to do this design the program."
Superintendent of School Bobbie D'Alessandro remarked that "by working together as partners, the Cambridge Public Schools and Harvard University can rise to the challenge that we face, creating opportunities for success for all students. Together we can expand learning and academic achievements of our students and have a profoundly positive impact on their lives and on the strength of our schools."
City Manager Robert Healy emphasized that "the academy responds to the city's priorities and vision defined in the Cambridge 'Agenda for Children' by expanding the capacity of existing out-of-school-time programs through partnership – and by focusing on the goal of success in school."
In its first year, the Cambridge-Harvard Summer Academy will offer courses in mathematics, English, and social studies to approximately 350 students who will benefit from additional academic support. In subsequent years the academy will expand in size and content and will aim to open its courses to all Cambridge high school students interested in advancing their studies over the summer.
Teacher interns from GSE's teacher education program will study subject-specific pedagogy, adolescent psychology, and the needs of academically at-risk secondary school students, and work intensively with teachers selected from Cambridge and surrounding public school systems.
"The quality of teaching improves when new teachers have time to discuss their work in supportive settings focused on student learning," said Jerome T. Murphy, Dean of the GSE. "We designed the Cambridge-Harvard Summer Academy to allow teachers and Harvard faculty ample time to work closely with interns on teaching practice and behavior."
Paula Evans, principal, Cambridge Rindge and Latin High School, and Katherine Merseth, senior lecturer and director-designate of teacher education at the GSE, are working together to shape the program. Evans noted that "the collaboration with Harvard offers an exciting opportunity to work cooperatively to train new Cambridge teachers."