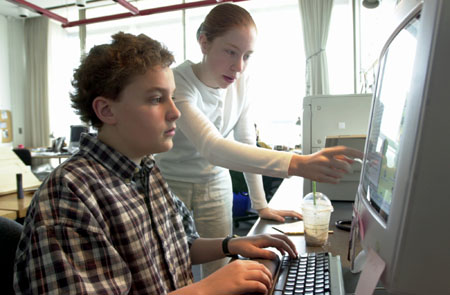 Hello, our names are Benjamin Bath and Julia Berthet. We are seventh-grade students from the Graham & Parks School. Every year our school sends junior high students to different workplaces across Cambridge. The objective: to give students a taste of what a week of work is like. We were assigned to work at the Harvard University Office of News and Public Affairs.
Our teacher gave us an assignment to complete during the week. We both had to interview people on the staff about their jobs and eventually create job posters describing the positions. With that in mind, we set out to our uncertain future as "Newsies."
Julia: When I got here I didn't really know what to expect. I did have some experience with newspapers because my mom works for the Boston Globe, but I was still a little shy. That disappeared when I met my supervisor, John Lenger, and the rest of the staff.
Ben: When I heard that I was going to the Harvard News Office, I was a little apprehensive. I didn't quite know what to expect. I was worried and a little nervous that I'd annoy my boss or something like that, or that I'd fail to meet his expectations. I became very nervous as we ascended to the 10th floor of Holyoke Center. But as soon as I came out of the elevator I was put at ease by the nonchalant manner of John Lenger.
When we got to the office, John, who is assistant director for publications in the office, gave us chapter and verse on the office – what it does, what its history is, and the different types of publications it makes. After a tour of the office we were put to work proofreading some articles. Later, after lunch with John, we went to deliver a package for Terry Murphy, the Gazette editor, at the Fogg Art Museum.
It was the dawning of the second day. On Tuesday, we were lucky and got to go out on a photo shoot with Rose Lincoln, one of the Gazette's photographers. The photo shoot was of some students who proposed to build a robotic garage to help solve the parking problem in Harvard Square. Rose asked the students to pretend they were lifting a car; the photo illustrated a story in the May 17 Gazette. In the afternoon, we worked on writing eight-word descriptions of the content categories of a new Web site, Research Matters.
It was the dawning of the third day. On Wednesday, work started to pick up. After we arrived, John informed us that we would write this article and that we should set up our interviews soon. Meanwhile, everyone was working hard to get the paper finished for Thursday. After lunch, we worked some more on this article, tried to arrange our interviews and delivered a package to a woman at University Hall. Then, while Ben stayed at the office and learned how to use Photoshop, Julia carried 60 copies of a coloring book over to the Museum of Natural History shop.
It was the dawning of the fourth day. On Thursday, John showed us how to process articles so that they could be put on the Web. After that, we worked some more on our article and Julia interviewed Rebecca Rollins, the associate director of the office. Rebecca gave us some good advice about work. She said that you should figure out what you like to do and stick to that.
Then the weekly news meeting began so that the writers, editors, and photographers could discuss the next issue of the paper. After the meeting, Ben interviewed Bill Cromie, the science writer. Bill has had a very interesting life. He has been to both the north and the south poles and has a mountain in Antarctica named after him.
After our interviews, we went out to lunch at the Wrap. After lunch, we finished up this article. Thus ended the fourth day.
It was the dawning of the fifth day. On our fifth day we organized the papers in chronological order and made tags of the dates so that they would be easy to find. Then we went out to lunch. Uh oh, it's deadline time. We'd better turn this in or else we'll be in trouble with Terry. See ya later!