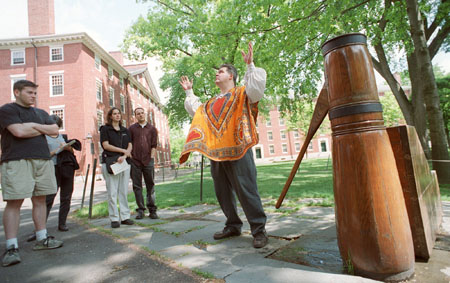 In 1721, Cotton Mather listened to the slave Onesimus describe how Africans used fluid from a mild smallpox infection to inoculate the healthy against the disease.
Mather took the advice and inoculated his son, who grew ill and almost died. The action sparked such anger in the community that a bomb was thrown through Mather's window.
Mather, a Harvard graduate whose father was Harvard's sixth president, stuck to his guns and remained an advocate of inoculation against smallpox, one of the worst scourges of his time.
Today, tourists can see Mather and Onesimus again in Harvard Yard as part of a new tour of Boston area innovations. The Innovation Odyssey takes tourists around the region with stops at three sites representing important advances in technology. The tour includes actors who re-create scenes to highlight the importance of each stop.
The Innovation Odyssey, which got under way in April, was developed during the past two years by representatives of more than 20 institutions, organizations, and companies, including Harvard, the Massachusetts Biotechnology Council, the Boston History Collaborative, Northeastern University, the Massachusetts Institute of Technology, and the Museum of Science.
Though an inoculation against smallpox would ultimately prove safe and effective, the stop in Harvard Yard actually highlights another milestone in the University's history: its founding.
Created just six years after the founding of Boston and 16 years after the Pilgrims landed at Plymouth, the establishment of Harvard so early in American history reflects the importance the early settlers put on education, according to tour organizers.
"What's interesting is that we do go back to the 1630s. People decided early on to put a fair amount of resources into an effort to train people for a life of the mind," said Robert Krim, executive director of the Boston History Collaborative.
The Odyssey itself is a two-hour ride by motor coach around the area. During the trip, the tour guide enacts scenes highlighting more than a dozen innovations, including Alexander Graham Bell's invention of the telephone, development of the Internet, the development of the microwave oven, and innovations in areas from finance to biotechnology.
The tour currently runs on the third Saturday of each month and by arrangement for large groups. It makes three stops, including the one at Harvard Yard. The other two are at the Massachusetts General Hospital Ether Dome, where the use of anesthesia was pioneered, and the Telephone Invention Mini-Museum.
Krim said the tour currently highlights just a small percentage of the breakthroughs that were made in the Boston area. In the future, he said, they hope to expand the idea to include other areas and other innovations.
See the Innovation Odyssey Web site for more information: http://www.innovationtrail.com.