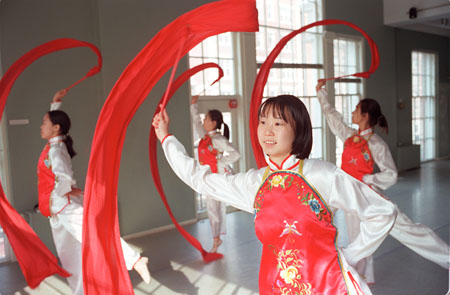 If a three-ring circus is too much of a good thing, then what would an 80-ring circus be?
Perhaps megacircus would be the appropriate term for the Arts First Performance Fair, taking place Saturday, May 5, and featuring more than 80 free musical, theatrical, and dance performances in and around Harvard Yard from 1 to 5 p.m.
Ambitious audience members might consider wearing in-line skates or packing collapsible scooters if they want to maximize their spectating pleasure and try to cover a field of activities that includes choirs, a cappella groups, a saxophone quartet, improv comedy, animation and short film festivals, Brazilian capoeira, traditional Celtic music, Gilbert and Sullivan, juggling, Thai dance, and a production of "The Glass Menagerie," to mention but a few.
But wait, there's more! Saturday's Performance Fair is only one part of Arts First, the annual showcase for the arts, which kicks off today (May 3) and continues through Sunday, May 6. More than 2,000 Harvard students perform and participate in the annual event, which is sponsored by the Harvard Board of Overseers and managed by the Office for the Arts at Harvard.
The four-day festival, now in its ninth year, includes a lively parade, a picnic, Saturday's Performance Fair, a dance concert and festival, art exhibitions, poetry readings, and on Sunday the annual Lowell House performance of Tchaikovsky's "1812 Overture" accompanied by the Lowell House bells, which Tchaikovsky himself might have heard when they hung in the St. Danilov Monastery near Moscow.
This year, the recipient of the Harvard Arts Medal will be Peter Sellars '80, known for his innovative direction of opera, theater, and film. President Neil L. Rudenstine will present the award to Sellars on May 5.
The Harvard Arts Medal was created to honor a distinguished alumnus/a or faculty member who has achieved excellence in the arts and who has made a special contribution through the arts to education or the public good. Peter Sellars is the seventh honoree, following John Harbison '60 in 2000, David Hays '52 in 1999, John Updike '54 in 1998, Bonnie Raitt '72 in 1997, Pete Seeger '40 in 1996, and Jack Lemmon '47 in 1995.
To learn more about Arts First, please call the Office for the Arts, (617) 495-8676, pick up a guide to Arts First at the Harvard Information Center in the Holyoke Center arcade, or visit the Office for the Arts Web site, http://www.fas.harvard.edu/~ofa/artsfirst