Photo and story by Jon Chase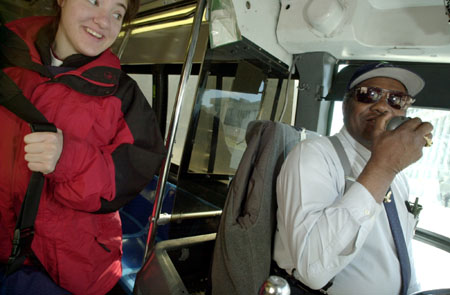 Good morning, folks. C'mon right in. How ya doing, Marie! Jodi, how's that thesis coming? Where's Ethel today? Step right up, ladies. How are you, sir? What a glorious day!"
Welcome to Jesse's bus, one of the M2 shuttles that ferries passengers from Harvard Yard to the Longwood Medical Area between 8 and 12 in the morning and 4 and 8 in the evening. Jesse Armstrong is the driver, greeting his regulars with a microphone and a smile.
"When it's raining," Jesse explains, "it's beautiful to me. So if the sun is shining, I'm just about hysterical!" His attitude is infectious, and passengers actually smile during their commute. At times, someone will grab the seat right behind the driver, and engage Jesse in conversation. He knows many of his riders by name, and has special relationships with some.
"Now you take Sophia, for example," Jesse says. "She's my main talking companion. She'll confide in me when she's down – this is confidential, so I can't really talk about it – but I tell her that this will pass, and to keep the faith; everything changes. I might quote some scripture, like the 121st psalm: 'I will lift up mine eyes unto the hills, from whence cometh my help …' We need to share our burdens, and if I can lighten someone's load, then that makes me happy."
Last year, Jesse's passengers lightened his load by raising a couple thousand dollars to defray the cost of his wife's kidney disease and dialysis treatment. He was out six months caring for her. "I was so touched," he relates. "People sent me cards … it really meant a lot to me.
"Is it hot back there in the rear of the bus?" he yells out. "OK folks, we'll get it cooled down soon."
Jesse aims to please, and in addition to lifting the spirits of his charges, he prides himself on punctuality. But if he's caught in traffic, he accepts what he can't change. "I don't get stressed," he explains. "I just relax, have a nice conversation, and before you know it, we're there.
"Simmons College, Emmanuel. Anybody for Simmons?" he yells out. The bus turns off the Fenway and swings up Louis Pasteur toward the Medical School. "Vanderbilt comin' up," Jesse intones.
The bus slows to a halt at the last stop, and Jesse signs off. "This is Thursday, so I can't say T.G.I.F. Wait 'til Friday. Make the best of the rest. This is Jess."
The bus motors off, a mere handful of passengers riding back to Cambridge over the Mass. Ave. bridge. At M.I.T., a student hesitates before getting off. "Jesse," he says haltingly. "I can't find my backpack. It's not on the bus. I must have left it on the bench at Vanderbilt. Can you call someone?" he asks plaintively.
Jesse gets on his radio and calls the driver whose route is 10 minutes behind his. "Hello sir," he begins. "I need some assistance. I have a passenger here who left a blue backpack at the Vanderbilt stop. Can you pick it up if it's there?"
The second driver replies that he's pulling in right now, and yes, there's a backpack on the bench. "Here's the number to call," Jesse says. "Ask for Kevin or Jay, and have them meet you in front of M.I.T. in 10 minutes when you arrive."
Two minutes later Jesse's radio comes alive. The following driver made the call; Kevin will pick up his backpack in a few minutes.
"Thank you sir," Jesse grins into his radio. "You're a true gentleman, and you've just made my day."
Just as Jesse Armstrong has just made one lucky passenger's day on the M2 shuttle.
Note new e-mail address: We serve the public interest! Interesting people, interesting jobs, interesting hobbies – we want them in the Big Picture. If you have an idea for the Big Picture, give us a buzz at our new e-mail address: big_picture@harvard.edu