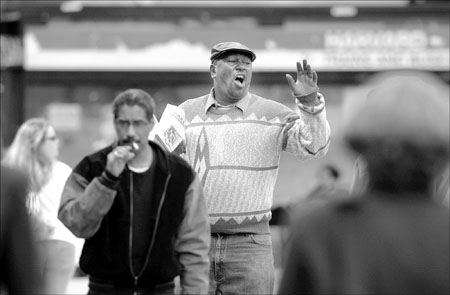 "Young ladies . . . Sir, good day, sir . . . Hello, big guy . . ."
We've heard them all. Loud and smiling, Gregory Daugherty belts them out. Some shy away from the corner, or wish they could, to elude the booming voice more than the man. One of many in the Square who hawks the newspaper that serves the area's homeless – Spare Change – to passersby, Daugherty has been a fixture outside of Holyoke Center since before Clinton became President.
Born in Dorchester and in his mid 40s, Daugherty started coming to Cambridge in the early '90s and worked as a hawker for the advertising newsletter The Square Deal. "I am a born salesman," he says, while taking a break just outside of Au Bon Pain. It's a sunny afternoon. Potential customers stroll past, and a young boy selling candy for his school peppers Daugherty for tips.
Daugherty explains that he fell homeless after falling hard in love. "It wasn't the right woman, and it took a long time to get over it. I didn't have a job, a place to live," he says, and confesses that "it took a few years to pull things back together."
And Cambridge, along with Spare Change, has helped him do that. "I want to thank Cambridge, and the people," he says squinting in the afternoon light. "You know how in the Bible the Red Sea opened up for Moses and sort of took him in, well Cambridge opened up for me, opened up their hearts for me, and I just want to say Thank You."
We serve the public interest! Interesting people, interesting jobs, interesting hobbies – we want them in the Big Picture. If you have an idea for the Big Picture, give us a buzz at our new e-mail address: big_picture@harvard.edu